Tablet PC craze hits Nepal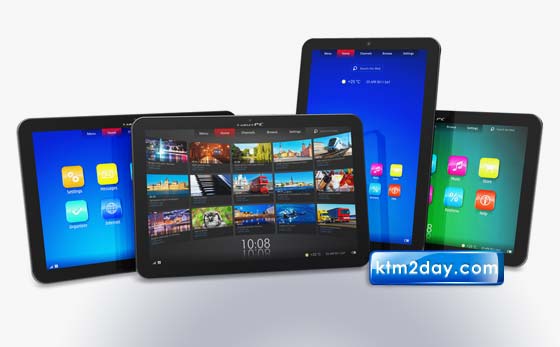 With connectivity playing an ever larger role in the life of the general people, the use of tablets has been growing significantly in the country. Growing demand in the market has prompted a battle among the distributors of companies like Samsung, Asus, Google, LG, Lenovo and Toshiba, among others, and they have been introducing several new devices to maintain their position in the domestic market.
According to Amit Sharaf, managing director of Nagmani International, the sole authorized distributor of tablets from Asus and Google in Nepal, sales of branded tablets have been soaring by around 100 percent annually. "The branded segment of tablets has a niche market. However, it is growing significantly," Sharaf said. According to him, more and more people are being attracted towards tablets as they are handy to carry around and have great utility.
Sharaf estimated the market for branded tablets to be around 2,000 units annually. Traders said that Indian and Chinese tablets accounted for a large chunk of the domestic tablet market. They added that the domestic market's annual requirement for tablets from Indian and Chinese manufacturers stood at around 5,000 units. "Tablets have been replacing personal computers and laptops in the Western countries, and their growth has been very impressive. In Nepal too, the market is growing slowly and steadily," said Bishal Shrestha, marketing manager at Mercantile Communications, the sole authorized distributor of Acer tablets. "It has not been long that we have forayed into the tablet market, but the response we have been receiving is great," Shrestha said. Portability, easy connectivity and multiple utilities are the factors helping to increase the tablet market, he added.
While tablet sales are limited to people from the business fraternity, their attraction is increasing significantly among youngsters and those whose profession requires them to stay connected even when they are travelling. Chinese and Indian tablets have found customers among medium-level office executives and tech freak students, traders said. According to Sharaf, more than 90 percent of the tablets imported into Nepal are sold in the capital city. The rest are sold in other popular cities like Pokhara, Biratnagar, Butwal and Narayanghat. As for prices, people looking for branded devices invest in the range of Rs 20,000 to 40,000 while those buying Indian and Chinese models tend not to spend more than Rs 10,000.
Both Sharaf and Shrestha predict that the market for tablets is bound to increase in the near future. "Tablets are a hit device globally, and the trend will soon arrive in the Nepal market too," Shrestha said. Likewise, Sharaf said that tablet makers were bringing out devices with features allowing users to make phone calls, and prices too were becoming more affordable by the day, leading to bright prospects for the tablet market here.