Nepal Telecom earnings per day drop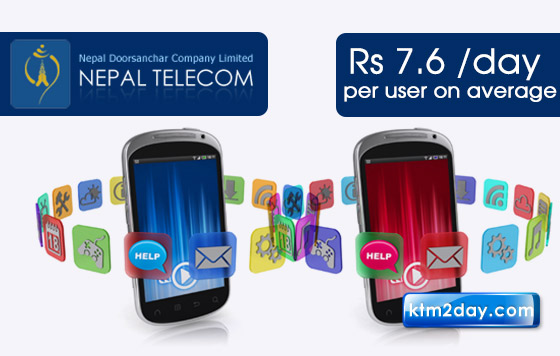 Nepal Telecom (NT) earns Rs 7.6 per day per user on an average. The average revenue per user (ARPU), however, is down by Rs 6 per day compared to what the company used to earn five years ago.
Along with the rise in penetration rate of telecom services, NT's ARPU is decreasing each year.
The comparison of income and customer base shows an NT customer buys services worth Rs 228 per month on an average. Five years ago, figure was at Rs 382 per month. This means NT's monthly earning declined by 40.31 percent over the five-year period.
As per NT's audited financial report, it earned Rs 34.1 billion from telecom services in 2012-13, while its user base stood at 12.45 million subscribers, which also includes 3.2 million subscribers of data service.
In fiscal year 2008-2009, its revenue from telecom services was at Rs 20.64 billion from 5.46 million subscribers.
The state-owned company has been able to increase its revenue every year along with the rise in the number of customers. However, the decline in ARPU every year is attributed to increased competition and penetration rate. NT is also the only company in Nepal that provides multiple voice (landline, GSM, CDMA mobile) and data (GPRS, EDGE, 3G, dial up, ADSL, WiMax and Sky Pro, CDMA 1X) services.
Guna Keshari Pradhan, spokesperson for NT, said it is "normal" to see fall APRU amid growth in the penetration rate. "Even as there is a decline in revenue per user from voice, the income from data is on the rise after the introduction of services like WiMax and Sky Pro and increased coverage of 3G internet," she said.
The Nepal Telecommunications Authority also attributed the slowdown in NT's APTU to increased competition from private companies, increased penetration rate, gradual price cuts, and promotional schemes. NTA officials said with the private sector companies fuelling competition in service expansion and prices, the state-owned company has also lowered prices.
Ncell and Smart Telecom are other two telecom companies that have received government permission to provide GSM mobile service. So far, Ncell is leading GSM mobile service segment with more than 10 million subscribers.
Voice penetration, which was at 14.11 percent in August 2008, has reached to around
85 percent by mid-December 2013. Similarly, data
penetration increased from 0.30 percent to 28.63 percent over the period.