International passenger traffic via Tribhuvan International Airport up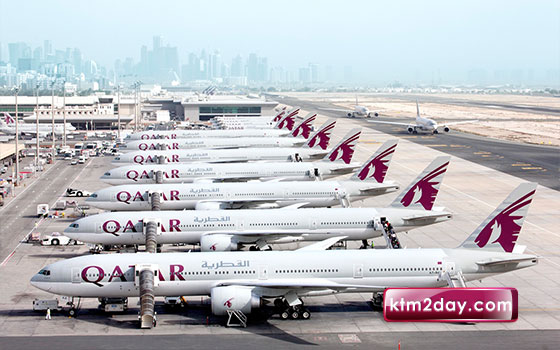 International air passenger traffic through Tribhuvan International Airport (TIA) rose 7.35 percent in 2013. According to the statistics of TIA, 29 international carriers flew 3.14 million passengers in and out of TIA.
Airport authorities said that air passenger traffic is expected to grow more this year as a number of airlines have doubled their frequency amid higher seat demand. This marks the 11th consecutive year of growth since 2003.
In aggregate, foreign and domestic carriers flew 4.68 million passengers (1.54 million by domestic airlines) last year. The country's sole international airport saw 92,695 take-offs and landings last year, among them 75 percent were of domestic airlines. On an average, 254 flights took off and landed at TIA daily last year.
The stats show that carriers from the Middle East commanded a 32.62 percent market share while the share of Indian carriers was 27.54 percent. Chinese carriers have a 5.97 percent market share.
Low-cost carriers commanded a 28.33 percent market share, or flew 889,957 travellers last year.
Airline-wise, Doha-based Qatar Airways secured the top spot in terms of passenger occupancy. Qatar Airways, which operates four daily flights from Kathmandu, saw its passenger carriage drop 1.28 percent to 352,062 compared to the previous year.
Jet Airways retained its second position, posting a 7.75 percent growth in passenger movement last year. Indian Airlines climbed to the third spot, posting a strong 15.90 percent passenger growth.
Budget carriers Fly Dubai and Air Arabia took the fourth and fifth spots with a 68.71 percent and 21.96 percent growth in passenger occupancy respectively. National flag carrier Nepal Airlines slipped to the sixth spot with a 6.39 percent growth in passenger occupancy.
Malaysian-based budget carrier Air Asia X reached the ninth spot within a span of one and a half years. The carrier entered the Nepali market in June 2012 and flew 137,322 travellers last year. Likewise, another Malaysian-based carrier Malaysia Airlines, which entered the Nepali market in September 2012, flew 96,999 travellers in 2013.
Traveller movement on Chinese carriers jumped significantly by 28 percent to 187,570 in 2013 with almost 98 percent seat occupancy. The three Chinese airlines received 40,950 more fliers within the span of one year. Air China, China Eastern and China Southern operate scheduled flights to Nepal.
Seven airlines have suspended their Nepal operations within one and a half years. Jet Lite withdrew its Nepal flights after its merger with Jet Airways. Other operators GMG Airlines, BB Airways, Kingfisher Airlines, Bahrain Airlines, Gulf Air and RAK Airways have also ceased their Nepal operations.
TIA stats show that Thai Airways and Etihad Airways saw their passenger occupancy drop 6.37 percent to 155,369 and 7.71 percent to 127,302 respectively. Hong Kong-based Dragon Air's passenger occupancy grew 9.24 percent to 99,633 last year. Likewise, Oman Air recorded a strong passenger growth of 12.05 percent to 94,238.
Korean Air flew 37,026 travellers, Pakistan Airlines flew 12,816 travellers and Singapore-based Silk Air recorded 49,320 passengers last year.
After the suspension of GMG Airlines, Dhaka-based United Airways saw its passenger occupancy grow 62.72 percent to 53,509. The national carrier of Bhutan Druk Air flew 43,441 passengers last year, up 23.95 percent from before. Bhutan has applied to revise the air service agreement as private carrier Tashi Air wishes to connect Nepal. Nepali private carrier Buddha Air flew 1,661 travellers last year, down 18.96 percent from the previous.