Nepal Telecom mulls revamping itself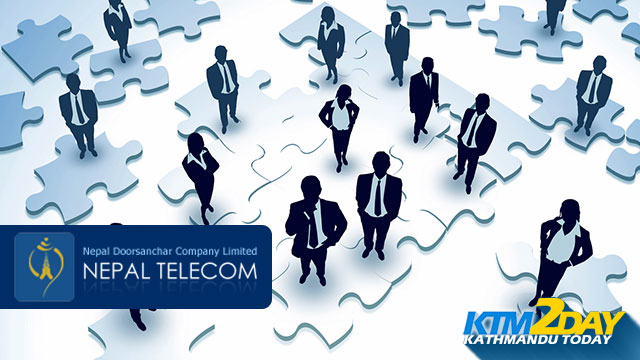 Nepal Telecom (NT) is gearing up to revamp itself as the plan to rope in a strategic partner is gathering momentum. For this, it is adopting new marketing strategies and also mulling over reducing its workforce.
The state-owned company is preparing to hire a consultant that will help it in restructuring also by cutting down the number of employees. And to boost marketing to sell products, it is already in the process of working with an international marketing consultant. These are some of the activities that the state-owned company is undertaking as it prepares for partnership.
Anoop Ranjan Bhattarai, managing director of NT, said that they are planning to call a notice to select a potential consultant for restructuring of the company by early next fiscal year. "Under the restructuring, we have a plan to give voluntary retirement to employees and stop
recruiting new staff in vacant posts," he added.
NT currently employs over 5,500 plus individuals. As per Bhattarai, restructuring of the company will help cut down its workforce by around 1,500 employees within two years. The company's procurement procedure has also indicated that it will take at least two years from now to bring in a partner. Recently, NT asked six short-listed foreign firms that had applied to provide consultancy service in share divestment and strategic partnership plan to submit request for proposal.
"NT needs improvement in many fronts, including service quality, to attract a partner," said a source at Ministry of Information and
Communications. The source added there was requirement of a strategic partner basically for effective management, to make NT competitive in term of service quality, pricing, and adaptation of newer technologies and avoid problems arising from complicated procurement procedure of the government.
NT is well-off in terms of resources. It has invested in hydropower projects and now plans to set up subsidiary companies for investment diversification. Though it is not yet clear how many per cent share the government will divest to a partner, it is estimated that if 30
per cent of its shares are sold, the foreign investor seeking a tie-up with NT will be required to invest Rs 30 to 40 billion.
Two years ago, a committee formed under the Ministry of Finance to study strategic partnership issue had also suggested that NT be operated under management contract for maximum three-year period for ensure better management practice and make NT an attractive prospect for foreign investors. However, NT itself had adopted measures to improve its weaknesses with the support of consultants.
Over-staffing and the resulting increased expenses have become a major headache for the government for a long time. NT officials said that compared to other divisions of the company, fixed line service segment has more employees whereas the income from this service is in declining trend. After voluntary retirement, the company plans to outsource jobs, as it did for its security guards.