Samsung Electronics CEO Boo-Keun Yoon in Nepal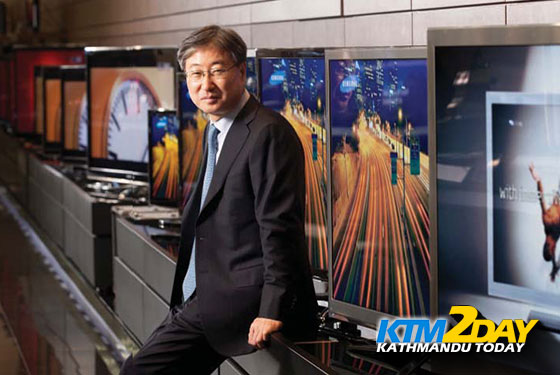 BK Yoon, the CEO and President of Samsung Electronics Co, along with a high-level delegation from Samsung, is in Nepal to review the Samsung Consumer Electronics business here and assess the potential for future growth opportunities in the country.
According to Him Electronics, which markets and distributes an array of Samsung products in Nepal, Yoon visited various Samsung outlets in Kathmandu and Lalitpur, and inaugurated the newly renovated Exclusive Samsung Plaza in Durbar Marg, Kathmandu.
Yoon's visit coincides with the introduction of Samsung Curve UHD and LED TVs in Nepal, Him Electronics said.
Him Electronics Managing Director Shekhar Golchha was quoted in a statement from Him Electronics as saying, "His [Yoon's] visit clearly states the importance Samsung's business in Nepal and the focus that Samsung has given the Nepal market which is very beneficial not only to Nepali consumers but, I believe, for the Nepali economy as a whole in the long run. The visit has been a motivating factor for all of us here at Him Electronics and has given us the opportunity to pay our warm gratitude towards the importance that Samsung has given to the Nepali market."
Samsung's consumer electronic products are distributed by Him Electronics, a subsidiary of Golchha Organization.
Samsung is a global leader in flat panel televisions, smartphones and memory chips.
Him Electronics retails Samsung products through seven 'Exclusive Brand Outlets' and 190 dealers across the country, according to the statement. The company has 13 service centers to provide customer care, it added.