Nepal Telecom introduces Anniversary Offer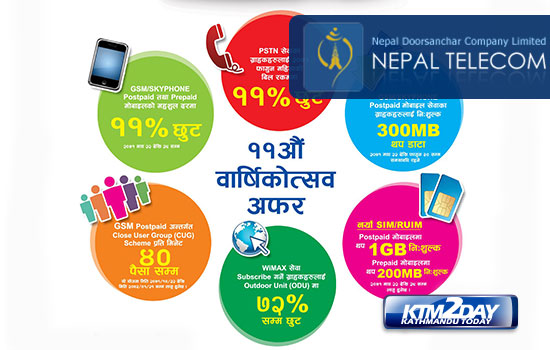 Nepal Telecom (NT) has announced various offers for its consumers on the occasion of its 11th anniversary. Speaking at a program on Thursday, Buddhi Parasad Acharya, managing director of NT, said the state-owned telecom operator would provide 11 percent discount on GSM and Sky postpaid and prepaid mobile tariffs to commemorate its 11th anniversary. This means postpaid and prepaid subscribers of NT can make calls at Rs 1.33 per minute and 89 paisa per minute, respectively.
The offer is valid till February 12. NT has also announced 11 percent discount on bill of PSTN users for the month of Falgun. Similarly, NT will provide 300 MB data free of cost to its GSM and Sky postpaid users. The offer is valid till March 14. Likewise, customers buying new postpaid and prepaid SIM or RUIM card from Thursday till February 12 will get 1 GB and 200 MB data, respectively. The offer is valid for three months.
NT has also announced 20 to 50 percent discount based on the volume of package for customers purchasing out-door unit of WiMAX Internet service. Speaking at the program, Minister of Information and Communications Minendra Rijal said that the ministry had formed a committee of experts to study and recommend structural improvements needed to enhance the quality of service provided by NT. "The committee will submit its report soon. Structural changes will be made based on the report," added Rijal. Minister Rijal also said the government was working to find a strategic partner for NT.
The government plans to offer 30 percent shares in the operator to the strategic partner. "The process of selecting a consultant to recommend strategic partner is at the final stage," he added. On the occasion, Minister Rijal also launched NT´s two mobile applications — Nepal Telecom and NT Pro. According to NT, customers can pay their bills, recharge their phones, enquire about services of NT and even file complaints through the Nepal Telecom app. Similarly, the NT Pro app, which is based on Session Initiation Protocol (SIP) technology, allows NT´s postpaid users to use mobile service in foreign land without using roaming service.
Both these apps are available on Android platform at present. NT plans to launch these apps on iOS platform within three weeks. Meanwhile, Acharya said NT´s Customer Contact Center, which aims to listen to customers´ grievances and find solution to them, will come into operation soon. "We are hopeful that it will help increase the quality of our services," he added.
NT is preparing to implement Network Rehabilitation Program to manage old networks across the country, start commercial distribution of Fiber-To-The-Home (FTTH) service in Kathmandu Valley, expand optical fiber network in other major cities, and introduce 4G Long Term Evolution (LTE) service. According to Acharya, NT´s subscribers base has expanded by 27 times, from 422,000 to 11.7 million, over the past 11 years. Similarly, NT´s revenue jumped from Rs 7.66 billion to Rs 39.69 billion during the period.