Nepal Telecom launches Fibre To The Home service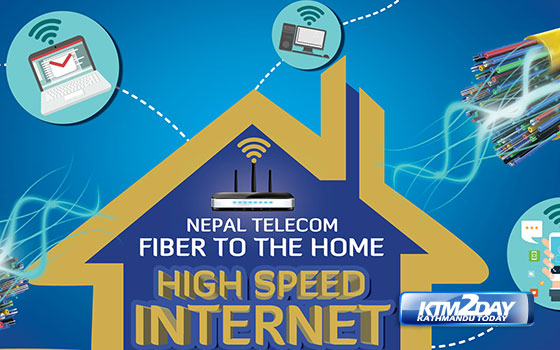 Nepal Telecom (NT) has started its Fibre to the Home (FTTH) broadband internet service in some parts of the Kathmandu valley. In the first phase, this service will be available in Durbar Marg, Jamal, Thamel, Kamaladi, Gairidhara, Naxal, Putali Sadak and Sundhara through its service counter located at Sundhara.
NT offers a volume-based package at prices ranging from Rs2,040 for 30 GB with a validity of one month to Rs23,040 for 480 GB with a validity of 12 months. The bandwidth for this package is 10-100 Mbps. Likewise, customers will be able to get a 20 GB data package with a bandwidth of up to 10 mbps at Rs1,140 per month. Under this bandwidth, NT offers a 480 GB data package for Rs18,240 annually.
The state-owned telecom giant plans to introduce FTTH internet service under unlimited package soon. According to the company, customers have to buy a CPE device which costs Rs10,000 to Rs20,000 depending on the type of internet package desired.
NT has installed optical fibre to the customers' homes to provide this service. "This new FTTH technology will provide high speed internet, and the prices are also very competitive," said Dilliram Adhikari, deputy spokesperson of NT.
He added that the fibre installation work was going on to expand the service to other areas too. "As the focus of this technology is corporate offices, we started our operations from corporate office hubs. We will be expanding to other areas and eventually across the country," he said.
According to him, the service will be expanded to Kuleshwor, Balkhu, Kalimati and Chhauni areas within a month while customers in Patan, Manbhawan, Lagankhel, Kumaripati and Jawalakhel areas will get the service within three months.
"We plan to install FTTH fibre in the Ring Road area in the valley and in Pokhara, Bharatpur, Birgunj, Biratnagar and Butwal during this fiscal year."