Electric cookers demand rise in Nepali market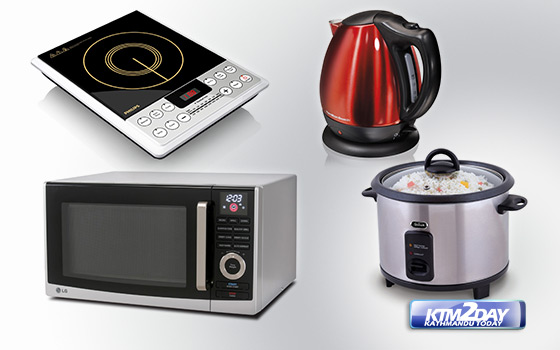 Frantic householders have been snapping up induction cookers as the liquefied petroleum gas (LPG) crisis enters its second month.
Demand for electric stoves and other electric cooking solutions have jumped in the Kathmandu Valley as there is no cooking gas to cook food.
Although the government had announced that half-filled gas cylinders would be distributed on Saturday and Sunday, many people had to return empty-handed as dealers across the valley didn't get their shipments.
The country has been facing an acute shortage of LPG since India imposed a blockade, forcing people to look for alternatives so that they can eat.The rush for induction cookers has led to a shortage of branded products while non-branded cookers are available.
Local distributors of brands like CG, Colors and Philips said they were out of stock due to the surge in demand. In Mahabouddha, Kathmandu, one of the largest markets for Chinese goods in the valley, most of the traders were busy selling induction cookers, and customers were also seen enquiring about electric stoves.
Bajaj, Prestige, Baltra, Yasuda, Suryamate and iNext are some of the brands of induction cookers that are available in the market. Traders said that sales of induction cookers had jumped threefold, and that they were fast running out of stock.
Mahesh Shrestha, a retailer at Mahabouddha, has been busy for the past month. "I used to sell one to two units of induction cookers per month, but now we are selling four-five units daily as city dwellers are increasingly going for electric stoves due to the shortage of cooking gas," he said. He sells Chinese induction cookers named Suryamate which cost Rs6,500 apiece.
Likewise, Syakar Trading, the authorised distributor of Philips in Nepal, sold over 300 induction cookers within a month. "As very few people used to buy them before the gas shortage hit the country, we don't keep large stocks. Now with demand rising sharply, we have gone out of stock," said Ajay Maharjan, sales manager of the Philips showroom at Kantipath.The company is planning to bring around 400 induction cookers by air cargo before the Tihar festival. Philips induction cookers cost Rs7,500 apiece.
Similarly, CG Electronics has been running short of its CG induction cookers, and it is planning to launch new models in a week. "Around 2,000 units of induction cookers will be available in the market," said Bishnu Gyawali, deputy general manager of the company. The company is yet to fix the price.Induction cookers cost between Rs5,000 and Rs8,500.
However, customers complain that prices have shot up from last month.
Elisheba Chhetri who bought a Bajaj induction cooker said, "When I came to buy an induction cooker, most of the nearby shops and department stores were out of stock. I found it in one shop, and they charged me Rs6,500 although it used to cost Rs3,000 to Rs3,500 a month ago."
Traders said that importers had hiked prices citing limited stocks and increased transportation costs as they have to bring them by air. "We are not responsible for the price rise, wholesalers have set the new prices," said Raju Shrestha, proprietor of TCL Corner at Mahabouddha.
Meanwhile, merchants said that sales of other electric cooking solutions like heater rice cookers, microwave ovens, air fryers and electric kettles had also swollen. "Due to the fuel crisis, demand for other electronic appliances is very small, and people are increasingly going for microwave ovens and rice cookers these days," said Gyawali of CG Electronics.According to him, sales of these items have doubled compared to normal times. Prices have also gone up with the rise in demand.