Visa Fee waived for Chinese Tourists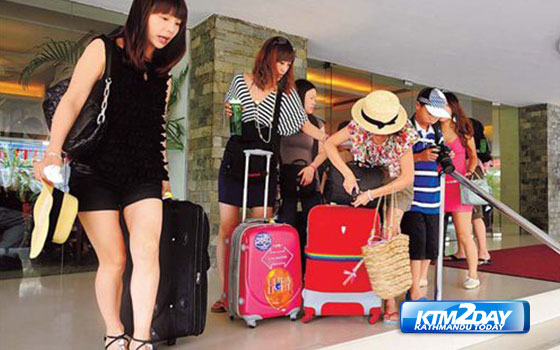 Chinese tourists will not have to pay visa fee to enter Nepal henceforth.
In a bid to boost arrivals from the north, the Cabinet on Friday decided to waive the fee for Chinese visitors—a facility enjoyed only by visitors from Saarc countries so far.
The Cabinet decision came immediately after Deputy Prime Minister and Foreign Minister Kamal Thapa announced the new visa policy during bilateral talks with Chinese Foreign Minister Wang Yi in Beijing on Friday.
The Chinese government also lifted travel advisories to its citizens travelling to Nepal with immediate effect. The advisory was issued by the Chinese consular service network in the context of earthquakes in Nepal. "This marks the tour normalization for Chinese citizens in Nepal," read a Chinese Foreign Ministry statement. Foreign visitors have to pay $25 for a 15-day visa and $40 and $100 for 30-day and 90-day visas, respectively.
"It's a welcome move," said Dinesh Kumar Thapaliya, secretary at the Tourism Ministry. "It will help attract a greater number of Chinese tourists to Nepal."
He said Nepal has seen a phenomenal growth in the number of Chinese tourists over the past decade and this growth momentum is expected to continue in the years ahead with the new policy.
Over the past decade, Chinese tourist arrivals have jumped more than fivefold, making the northern neighbour Nepal's second largest source market, attesting to the growing popularity of the Himalayan country among Chinese vacationers.
After becoming the world's largest bloc of outbound travellers in 2012, Chinese tourists gained a bigger lead in 2013 and 2014. According to China Tourism Research Institute, China has been the world's largest outbound market since 2012.
By November, 2014, China's yearly outbound tourists reached 100 million for the first time. In the whole year, the outbound tourists reached 117 million, an increase of 19.16 percent over 2013.
The outbound tourists spent a record $164.8 billion overseas in 2014. China had 61.90 million outbound visitors in the first half of 2015, an increase of 12.1 percent compared with the same period in 2014.
Nepal witnessed a constant growth in the number of Chinese tourist arrivals since June 2009. Tourism Ministry statistics showed Nepal received 123,805 Chinese visitors in 2014, up 10 percent year-on-year. Ministry officials attributed the rise to increased air connectivity. Currently, four Chinese carriers—Air China, China Southern, China Eastern and Sichuan Airlines—operate flights to Nepal.
The China National Tourism Administration categorised Nepal under the Approved Destination Status (ADS) for the first time in November 2001, after which Chinese citizens came to Nepal officially as tourists. Before 2000, the Chinese were allowed to travel to Nepal only on official visits.
In February last year, Nepal and China signed a revised bilateral air services agreement (ASA), permitting the operation of 56 flights per week. Under the old ASA, Chinese airlines were allowed to operate 14 flights every week to Nepal.
Favourite places in Nepal for the Chinese are Kathmandu, Pokhara, Jomsom and Muktinath. They are also shifting towards soft adventure sports like trekking, paragliding and rafting of late.