Radio Nepal to broadcast 24 hour service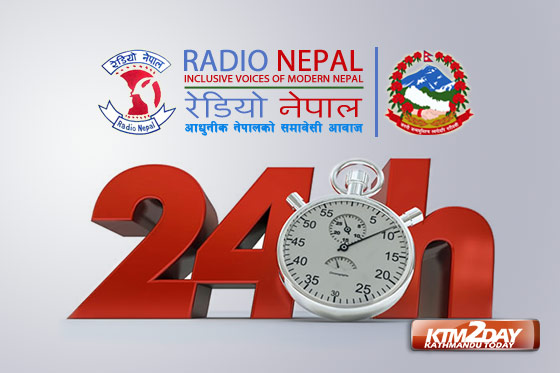 Radio Nepal, the oldest broadcasting agency, is set to provide 24-hour service from August 17.
The state-run broadcasting agency has decided to follow a management reforms implementation action plan in this regard.
It was also shared at a programme in Kathmandu that the government broadcasting agency was also set to establish a media village in Biratnagar in memory of Tarini Datta Koirala, the founder of Radio Nepal Broadcasting Services Development Committee (RNBSDC).
Participants at the programme said that the broadcasting agency would keep up with modern technical equipment and modernise its service by establishing high-quality shortwave tower.
Radio Nepal is running its programmes through central and regional transmissions through 21 frequency modulation relay centers across the nation.
It also broadcasts through medium wave and online.
Meanwhile, speaking at the programme, Minister for Information and Communications Sherdhan Rai suggested employees of Radio Nepal to perform result-oriented works, while praising their contribution to bring the broadcasting agency to this stage.
He also suggested keeping up its functioning as per the new Constitution.
The Minister also stressed the need to submit a report of works of the government broadcaster every month, while pointing out the need to launch its programmes up to local level to institutionalise the republic.
Likewise, the Communications Secretary Dinesh Kumar Thapaliya, also Chairman of the RNBSDC, pledged doing everything possible to implement reform programmes launched earlier to make Radio Nepal a good means of communication.
On the occasion, Radio Nepal Executive Director Suresh Kumar Karki presented a report on management reforms.