Ncell introduces Night Data Packs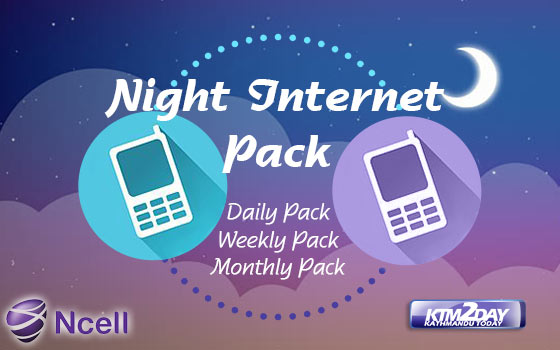 Ncell has launched 'Night Data Packs', lowering the data price to up to 10 paisa per MB excluding taxes.
Under the night data packs, coming into effect from June 29, customers can subscribe Daily Night Data Pack, Weekly Night Data Pack and Monthly Night Data Pack, depending on their requirement and use internet between 10:00pm to 6:00am at more affordable rates, as per a statement issued by the company on Tuesday.
Daily Night Data Pack comes with 40MB data volume at Rs. 8 and is valid for 24 hours.Weekly Night Data Pack contains 250MB data valid for seven days and costs Rs 40, while Monthly Night Data Pack valid for 30 days comes with 1000MB data volume comes for Rs 100, that is, 10 paisa per MB.
The night data packs' prices mentioned are exclusive of the government taxes.
Customers can subscribe the night internet packs simply by dialling *17123# and following the instructions thereafter.
They can also activate the pack by typing the data volume followed by space and N, and sending it to 17123.
For example, customers can subscribe 40MB daily night data pack by sending SMS, typing 40 N to 17123.
Customers can subscribe the packs as many times as they want, depending on their need.
Once the subscribed volume is consumed, customers will be able to use data at 50 paisa per MB between 10:00pm to 6:00am during the pack validity period. The night data packs will remain in place for 15 days.
Night Data Packs(10:00pm to 6:00am)
*Prices are excluding Govt. Taxes.
*Offer expires on July 13,2016