Himalaya Airlines to operate daily flights to Doha from July 11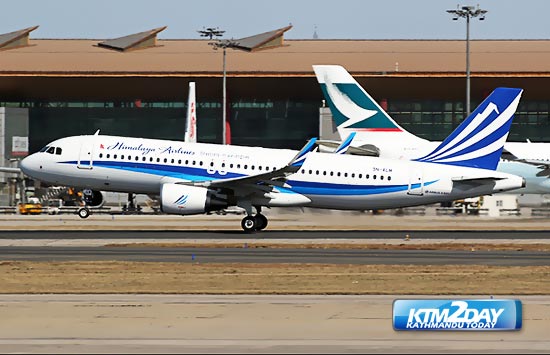 Himalaya Airlines (H9), a Nepal-China joint venture airline, is all set to operate daily direct flights to Doha, Qatar from July 11.
Issuing a press statement on Thursday, the airlines company said (that) it has decided to launch daily flights to the capital Doha following the increasing demands of the passengers to the destination.
Commenting on this daily direct flight, Vijay Shrestha, Vice President of the company, said, "Offering a daily direct service to Doha, Qatar is an indication that we would like to prioritize our service in this route. The daily service will allow Himalaya Airlines to offer its services to a larger base of our passengers' society, mainly the Nepalese living and working in Qatar."
Scheduled flight effective from July 11, 2016

Depart Kathmandu H9555 at 2300 hrs, arrive Doha at 0130 hrs

Depart Doha H9556 at 0230 hrs, arrive Kathmandu at 1015 hrs following day
The airline will depart from Kathmandu at 2300 hours (local time) and land at 0130 hours (local time) in Doha. Similarly, the return flight will depart at 0230 hours from Doha and land in Kathmandu at 1015 hours the next day.
The aircraft has 150 economy and 8 business class seats.
The airline's new Airbus 320-214 is currently flying to Doha thrice a week: Tuesdays, Thursdays, and Saturdays since May 31, 2016 marking it as the first scheduled destination of the Airlines.
Himalaya Airlines, a full-service premium carrier, established in August 2014, started its scheduled flight operations from May 31 2016 flying directly to Doha, Qatar. The airline has planned services to more destinations including Delhi, China, Colombo, Bangkok, Hong Kong and Dammam in the near future.