Mi Notebook Air slated for Sept Launch in Nepal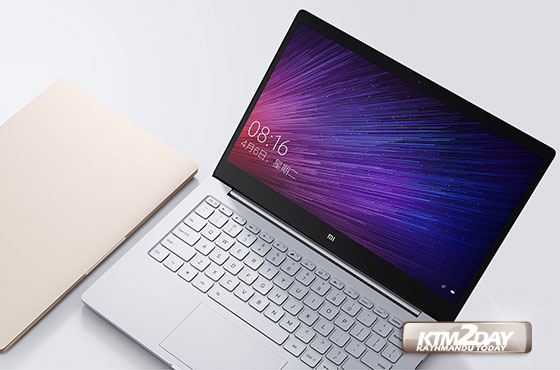 Chinese smartphone maker Xiaomi's first laptop is slated to make its Nepal debut next month. Vatsal Impex, the authorized distributor for Nepal, said the Mi Notebook Air would be rolled out within a month.
The Chinese manufacturer launched the all-metal-body laptop in the Indian market last week. Xiaomi entered the laptop businesses in a bid to diversify its product range.
"We are reviewing the product details and conducting a market analysis. Once we conclude these tasks, the laptop will arrive in the domestic market," said Nitesh Kumar Mundra, managing director of Vatsal Impex. "But the product will surely arrive in the market."
According to Mundra, Chinese brand Xiaomi has quickly grown in the Nepali landscape. Its sales have been swelling at the rate of 20 percent annually. "Consumers prefer our product because we offer high quality gadgets at reasonable prices," he added.
The Chinese electronics company recently launched two variants of the Mi Notebook Air—12.5-inch and 13.3-inch—in the Indian market with price tags of IRs35,300 and IRs51,400.
The 13.3-inch model boasts a full-HD resolution and is 14.88 mm thick. The Mi Notebook Air and Apple's Macbook Air both have the same display size, but the Notebook Air is slimmer by 2-3 mm compared to the Macbook Air. According to international media reports, Xiaomi has considered Apple as its 'inspiration'. Time and again, Xiaomi has been called a Chinese clone of the US tech giant. However, the company has become successful in gaining quick sales in a short period of time in major Asian markets.
The Chinese company, which was established six years ago, grabbed the fifth place in global shipments of smartphones and more than 5 percent of the global market in just three months in 2015.
In Nepal, company officials claimed that Xiaomi was growing at a monthly rate of 15-20 percent. "With the launch of the laptop, the market will grow further," said Mundra.
The upcoming laptop runs on the sixth-generation Intel Core i5 processor bundled with Nvidia GeForce 940MX GPU. The device has 1 GB of GDDR5 VRAM, 8 GB of DDR4 RAM and is built on quick charging technology which can charge 50 percent of the batteries with a run-time support of 9.5 hours in 30 minutes. The 12.5-inch model of the Mi Notebook Air also features a full-HD display and is powered by the Intel Core M3 processor. The device has 4 GB of RAM and provides a battery run-time of 11.5 hours.
Both laptops have an HDMI port, two USB 3.0 ports, USB Type-C port and 3.5 mm headphone port. However, no Ethernet port or optical drive has been installed. The laptops will be available in shades of silver and gold. Likewise, Vatsal Impex is also set to launch the Redmi 3s phone within a month.