Chinese Airlines resumes flights to Kathmandu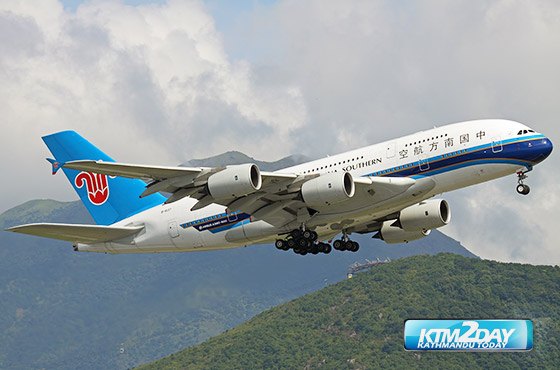 Chinese airlines, which had stopped their flights to Kathmandu due to earthquake and blockade, have resumed their services.
Some Chinese airlines have also started to increase flight frequency to Kathmandu.
China Southern Airlines, which had stopped its flights to Kathmandu a day after the blockade, resumed its service from August, operating three flights a week. It started flying to Kathmandu two times a day from October 30.
Dhir Chandra Shrestha, the deputy sales manager at the Kathmandu office of China Southern Airlines, said that the airline would add more flights if the demand increases.
Speaking at an interaction with Pokhara-based tour operators, Shrestha said that the flights resumed from August and that the airline added flights after passenger footfalls increased.
"The number of Chinese tourists visiting Nepal has not increased much this year," he said, adding that the tourism industry should make concerted efforts to bring more Chinese tourists to Nepal.
According to Shrestha, flights coming to Nepal have 90 percent occupancy. "Half of them are Chinese and the remaining from other countries," added Shrestha. He also said that the tourism entrepreneurs should put more efforts to attract more Chinese.
"We want to bring more Chinese tourists to Nepal by joining hands with the tourism stakeholders of Pokhara," he added.
Apart from China Southern, Air China and Sichuan Airlines are flying to Kathmandu from Chengdu, while China Eastern links Kunming with Kathmandu.