Ncell launches Free Facebook offer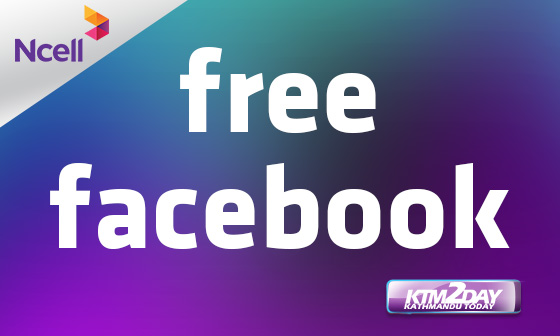 Ncell has launched 'Facebook Free' scheme in collaboration with Facebook, allowing its subscribers to use Facebook free of cost under the 'Internet for All' theme.
Organizing a function in Kathmandu on Tuesday, Ncell said that the offer allows its customers to use Facebook for free.
The offer comes into effect from Wednesday and will remain valid for 90 days.
According to Ncell, all prepaid and postpaid customers will be able to post status, upload photos, read others' updates, and like, share and post comments without any data charge via Android mobile application of Facebook and browsers (except proxy enabled).
However, viewing others photos and videos in Facebook will attract charges at prevailing rates, the GSM operator said.
"The customers can switch to paid version, which is just a click away, by pressing 'see photos' option which is seen in the top right corner of Facebook page while browsing.
Customers will also be notified if they want to switch from free to the paid version of the Facebook application," a statement issued by Ncell said.
Simon Perkins, managing director of Ncell, said that the offer helps the youths and migrated workers of the country to keep in touch with their friends and families. "There is a clear link between access to internet and economic growth of the country. The study across the globe shows that 10 percent increase in Internet users can help on the growth of GDP by 1.5 percent," he added.
He also said that 97 percent of Internet users of the country access Internet through mobile phone. "Eight million people in Nepal use social media and this kind of offer will help to attract more population to social media. Ncell is also committed to work with the government on making internet accessible in all village development committees by 2020," Perkins added.
Likewise, Anna Nygren, head of APAC growth partnership, Facebook, said that Facebook was started in 2004 with the aim of more open and connected world. "There are around 1.8 billion active users of Facebook every month. The offer will bring more Nepalese in Facebook." Nygren said.
According to Ncell, customers can activate the offer by dialing *17117#.
From Ncell Website :
How to activate Free Facebook ?
Free Facebook

Now get text version of Facebook and photo uploads for free, only on Ncell. Enjoy unlimited photo uploads, likes, shares, comments and more.

To start using Free Facebook, first switch on mobile data in your phone. If you use Android smartphone, go to your official Facebook app and click on free mode. If you use iPhone or other smartphones, dial *17114#. You will then receive an SMS with a link. Open the link and click free mode on your Facebook to start using for free.

If you want to view photos and videos, you will have to go to data mode from the FREE mode. In data mode, your data pack will be consumed or you will be charged as per your tariff if you haven't taken any data packs. Dial *123# and buy data pack and enjoy pictures and videos at the lowest rates. Don't forget to disable your background data to prevent unwanted usage of data due to automatic updates, etc.

Use Facebook for free in Ncell and be closer with your friends and family.