Meghauli Serai among one of the best new hotels of 2017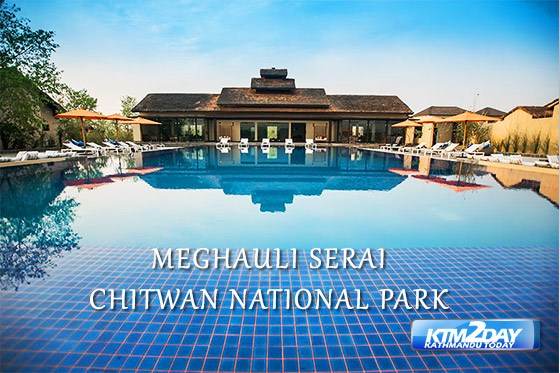 Travel & Leisure magazine has featured Meghauli Serai, — a Taj Safaris lodge — as one of the best new hotels of 2017.
Meghauli Serai is a part of CG Hotels & Resorts – a hospitality portfolio arm of Chaudhary Group (CG).
Travel & Leisure has showcased some 44 hotels and resorts around the globe in its annual 2017 'ItList' as the Best New Hotels. The US-based magazine is a globally renowned publication on luxury hospitality travel and tourism.
"This year, the competition was fiercer than ever," the magazine writes. "The 44 hotels and resorts are making waves for different reasons – some for killer design, others for culinary bona fides or an unbeatable location – but all are inspiring the rest of the hospitality world to take note."
The 2017 'Best Hotels in the World' ItList covers 44 hotels and resorts in 31 countries on six continents.
"We are truly humbled by this amazing recognition which has put Nepal and CG on the global map for providing world-class hospitality experiences," said Executive Director of Chaudhary Group and MD of CG Hotels and Resorts Rahul Chaudhary.
"CG Hotels & Resort's hospitality portfolio consists of some of the most iconic properties globally in destinations such as the Maldives, Sri Lanka, Dubai, the Philippines, China, Indonesia and New York to name a few," he said, adding that the company is proud of its partnership with Taj and is confident that Meghauli Serai's feature in Travel & Leisure will result in the influx of high-end tourism into Nepal. "This is the 5th high-end lodge within our portfolio under Taj Safaris in India and Nepal."
Located next to the UNESCO World Heritage Site of Chitwan National Park, Meghauli Serai offers the visitors an opportunity to experience rich diversity of wildlife and vegetation. The park is especially renowned for its protection of one-horned rhinos, Royal Bengal tiger and Gharial crocodiles.