iPhone 7 gets a pricecut in Nepal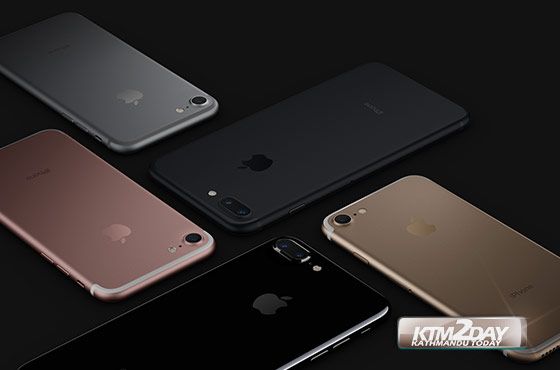 Generation Next Communications Pvt Ltd, the authorized distributor of Apple products for Nepal, has cut prices of different iPhone models.
Issuing a statement on Wednesday, the company said that the price drop will help customers who have been waiting to get their hands on iPhone since long.
The fresh price cut means iPhone 7 Plus (256 GB variant) will now be available for Rs 132,000. The phone retailed at Rs 136,000 when it was launched. Likewise, iPhone 7 Plus of 128 GB and 32 GB will now be available at Rs 119,000 and Rs 105,000, respectively. Earlier, these sets retailed for Rs 122,500 and Rs 108,000.
"The new price of iPhone 7 (32 GB) memory is Rs 86,000. Similarly, iPhone 7 with 256 GB, 128 GB and 32 GB ROM is Rs 112,000, Rs 99,800 and Rs 86,000, respectively," the company said in the statement.
The statement further added that price of iPhone 6S (32 GB), iPhone 6 (64 GB) and iPhone 6 (128 GB) has fallen to Rs 72,800, Rs 68,000 and Rs78,000, respectively, while iPhone SE (64GB) will now be retailed at Rs 52,500.
Earlier, the price of iPhone 7 (32GB), iPhone 7 (128GB) and iPhone 7 (256GB) was Rs 91,000, Rs 105,500 and Rs 119,500, respectively.
According to the company, iPhone 7 Plus is available in three different colors — black, jet black and red. Likewise, iPhone 7 is available in five different color options — gold, rose gold, black, jet black and red. Similarly, iPhone 6 is available in gold, rose gold and space gray color options.
The company is also giving 1 GB Ncell data per month for up to 6 months to iPhone 7 and iPhone 7 Plus buyers. The buyers will also get a back cover and a tempered glass. iPhones are also available in easy installments, according to the statement.
Generation Next further added that Apple products are available from its authorized dealers — Oliz, Future world, Apex, Quality computer, Computer Sales Centre and Himalayan Office Automation.
-Updated on 24th Aug 2018
-iPhone 7 base model of 32 GB only available in stores now. 
Related Articles : 

-These models are available