Himalayan Travel Mart 2017 kicks off in Capital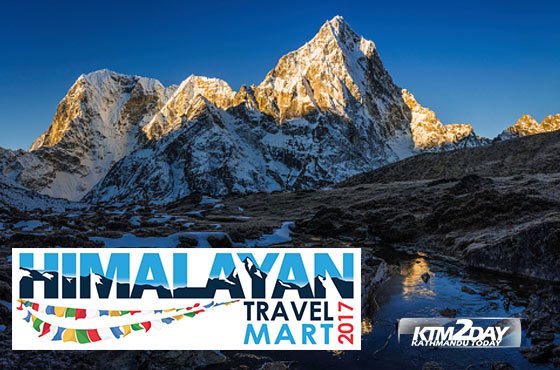 The much-hyped tourism event of the country — Himalayan Travel Mart 2017 — has begun in the Capital from today.
The four-day event is being organised by Pacific Asia Travel Association (PATA) Nepal Chapter with the theme 'Nepal, Gateway to the Himalaya'.
Speaking at the programme, Chief Executive Officer (CEO) of Nepal Tourism Board (NTB) Deepak Raj Joshi said that the event aims to redefine tourism in Nepal and also establish the country as a gateway to the Himalayas.
"Nepal is a good destination for all types of tourism. This event will prove to be instrumental for anyone keen to know about Nepal's tourism and will also boost the confidence of tourism stakeholders of the country," he added.
Similarly, Suman Pandey, chairman of Nepal PATA Chapter, said that the travel mart will provide momentum to Nepal's tourism sector, which is gradually recovering after the devastating earthquake.
As part of the travel mart, PATA Nepal Chapter organised the International Blogger and Media Conference at Park Village Resort on the first day of the event. The conference drew participation of more than 100 international bloggers and journalists. The event was intended to promote Nepal's tourism through the network of international bloggers. During the event, foreign bloggers discussed different issues related to the exploration of the market and travel branding.
As per the schedule, PATA Nepal Chapter is also organising various knowledge sharing events to promote Meetings, Incentives, Conferences, and Events (MICE) tourism in the country. Similarly, the event will also include a 'buyers and sellers meet' to discuss tourism issues in Nepal and reach a business deal.
More than 200 international buyers, sellers and tourism experts from Europe, North America, South America, Australia, New Zealand, Russia, Asia, Gulf countries, Nepal, India, Bhutan, Bangladesh, Myanmar and Pakistan are participating in the event.
Download Brochure here