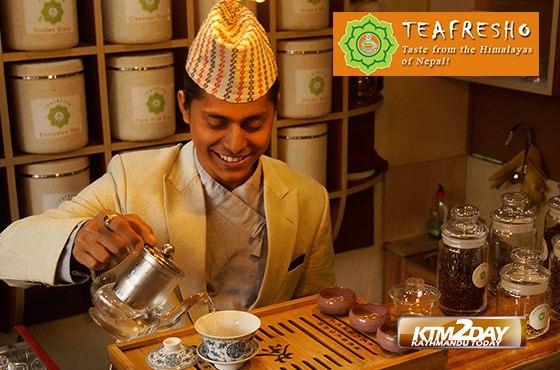 Teafresho International Pvt Ltd — a Kathmandu-based tea trading company — is opening its first international lounge in New York City of the United States of America.
According to the company, it is investing Rs 10 million in the outlet which will come into operation within this year.
Issuing a statement, the company said that its sole aim is to promote Nepali tea in domestic as well as international market. "Customers can enjoy more than 50 different varieties of Nepali teas in the lounge. They also buy tea directly from the lounge.
Currently, there are 146 tea lounges in New York City and most of the lounges there sells tea bags but don't offer quality and natural tea," the statement added.
The company believes that the new lounge in New York City will provide opportunity to people there to enjoy quality, natural and healthy Nepali tea products at a reasonable price. "The lounge will play a crucial role to promote Nepali tea in the international market," Dharma Raj Pandey, a director of Teafresho, said, adding that the company also has plans to open new lounges in other countries and develop it as a franchise.
Pandey, who is currently in New York, further added that the country, despite producing organic tea of high quality, has not been able to promote its products in the international market. "We are exporting huge amount of tea products to India at a very cheap price.
Realizing the fact, we have decided to promote our products in the international market," he added.
The company has also announced that it would provide two percent of its total sales to farmers associated with the company.
"The new lounge in New York aims to serve the locals and middle to higher class people," he added.
The company already has two lounges at Thamel in Kathmandu. It plans to open three more lounges in the country in the near future.
Teafresho in World Tea Expo
Teafresho is participating in the International Tea Conference to be held in Las Vegas, US from June 12 to 15.
According to Teafresho, it will showcase different varieties of Nepali tea at the expo. It plans to sell 2,000 pouches of Nepali tea in the expo.
"With people from all over the world visiting the expo, we are hopeful that our participation will help the Nepali tea products to make their mark among international visitors," the company said in the statement.
The expo will showcase different varieties of tea products from 263 stalls. National Tea and Coffee Development Board (NTCDB) is also attending the expo.