Smart Telecom starts 4G service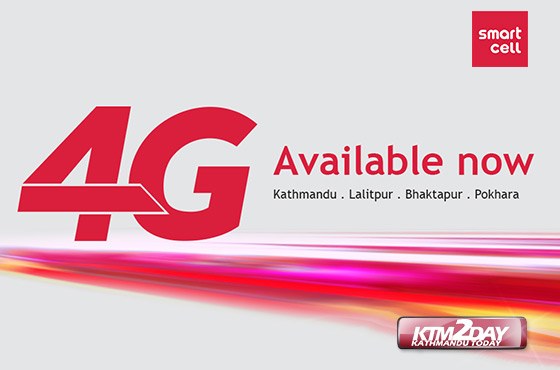 Smart Telecom is launching 4G service from Sunday, becoming the third telecom operator to provide fourth generation high speed Internet on smartphones after Nepal Telecom and Ncell. Officials of Smart Telecom have claimed that its 4G has Internet speed of up to 70 mbps.
The company has allocated 10 MHz dedicated frequency of 1800 MHz band for 4G service, whereas its larger competitors Nepal Telecom and Ncell have allocated only 5 MHz. This indicates that the 4G service of Smart Telecom will have higher Internet speed than that of Nepal Telecom and Ncell.
Speaking at a press meet on Saturday, Nagendra Das, head of Commercial Department of the company, said: "Users can have high Internet speed compared to other providers as we have allocated more frequency."
The company currently has 5 percent market share of both voice and data (2G). It has total 1.5 million users, which the company expects to increase significantly in near future.
This is only a soft launch, Das said, adding that the service will go fully commercial after a few weeks of testing in Pokhara and Kathmandu.
The company, which has an investment of about Rs 7 billion, has 80 percent foreign direct investment from Kazakhstan. It had started its service from the rural areas some 9 years ago. Its service has now penetration into 35 districts currently. Square Network, which is promoted by Sarbesh Joshi, has 20 percent stake in the company.
"We have also planned to launch 4G service in cities like Birgjunj, Chitawn, and Nepalgunj thereafter," said Sajin Rajbhandari, chief administrative officer of the company.
Along with the launching of the service, the company has also announced a special offer on voice service with the price of 1 paisa per second and this applies within its network or any other network in the country. It is also offering free voice call from Viber and WhatsApp for a month.
The offer also includes a data package of 1GB at a price of Rs 235 for 30 days and the price of 750 MB data package for 15 days is Rs 145, the company said in a press statement.
Likewise, 500 MB package of Rs 85 for seven days and 75 MB data package of Rs 15 for a day were also announced at the launching event.
The company secretary Suman Raymajhi informed that about Rs 7 billion has been invested in the company including a loan financing of about Rs 4 billion by Nepal Investment Bank and Prime Commercial Bank.
Nepal Telecom launched 4G service on January and Ncell launched the same in June. NT and Ncell have 48 percent and 45 percent market share, respectively, in the telecommunication industry of Nepal.