Domestic Airlines revise airfare after increase in fuel surcharge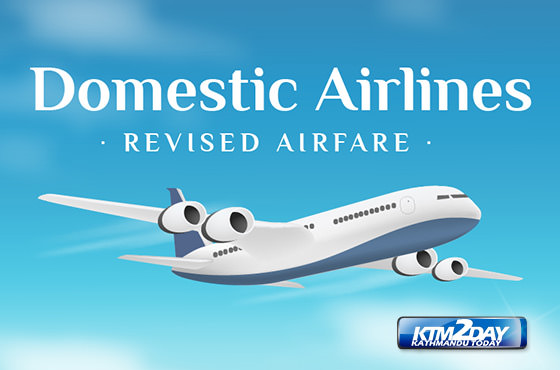 Domestic airlines have increased fuel surcharge, citing the rise in Aviation Turbine Fuel (ATF) price by the Nepal Oil Corporation (NOC).
According to Airlines Operators Association of Nepal (AOAN) – the umbrella body of domestic airlines, the hike in fuel surcharge will make airfare dearer by Rs 45 to Rs 200 depending on routes.
The new surcharge will come into effect from Monday.
Privately-owned domestic carriers are allowed to review their fuel surcharge if price of fuel increases by at least Rs 4 per liter.
NOC had increased price of ATF by Rs 5 per liter on Monday.
Anil Manandhar, corporate manager of Shree Airlines, said that the private airlines has increased fuel surcharge which will ultimately be passed on to passengers. "Fuel surcharge is different from airfare. We have to reduce the fuel surcharge if the NOC reduces price of ATF," he added. "This arrangement has been made so that airline operations do not suffer due to sudden change in fuel prices."
With the increment in fuel surcharge, flight tickets to Simara will now cost Rs 3,050. Similarly, new flights to Bharatpur, Janakpur, Pokhara, Tumlingtar, Bhairahawa, Biratnagar and Bhadrapur will now cost Rs 3,505, Rs 4,010, Rs 4,730, Rs 5,720, Rs 6,055, Rs 7,220, and Rs 8,750, respectively. Similarly, fares to Nepalgunj and Dhangadhi have been raised to Rs 9,565 and Rs 11,020, while mountain flight will now cost Rs 11,020.
Mukesh Khanal, marketing chief of Saurya Airlines, said that the government has allowed airlines to review fuel surcharge if price of ATF goes down or increases by at least Rs 4 per liter.
Nine months ago, private airlines had reduced their fuel surcharge after NOC decreased ATF prices by Rs 5 per liter. ATF now costs Rs 87 per liter.