Royal Challenge Whisky launched in Nepali market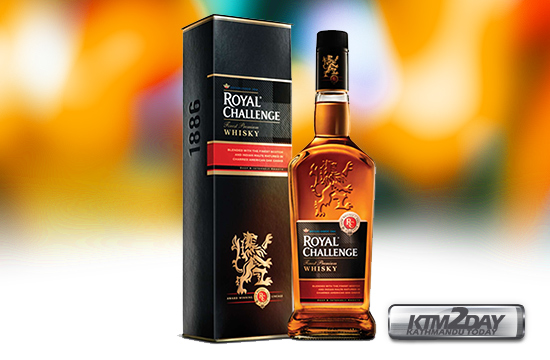 Nepal Liquors Pvt Ltd has formally launched Royal Challenge Whisky in the Nepal market.
"Apart from the deep and intensely smooth blend of scotch and premium Indian grains in Royal Challenge Whisky, American charred oak casks are used for ageing, during which it gains colour and flavour from the caramelised sugars in the charred wood and infuses the whiskey with a unique taste," a media release has quoted Rajesh Prakash, general manager for sales and marketing at Nepal Liquors Pvt Ltd, as saying.
The brand has its image by contemporising the Royal Challenge emblem of the lion and roundel and embedded the new packaging with markers of aspiration and hence the new black and red clutter-breaking look is more distinctive, premium, masculine and bold.
Also read — Ruslan Vodka comes in new packaging
The launch price of Royal Challenge Whiskey has been set at Rs 1,360 for 750ml, Rs 680 for 375ml, Rs 340 for 180ml pack sizes. The brand has already made its presence felt and earned success in all major whisky markets in India.
"The brand is in the path of repeating the same across Nepal."
The release has further said that Rajesh Bir Singh Tuladhar has acquired the shares of Nepal Liquors Pvt Ltd (formerly known as United Spirits Nepal Pvt Ltd) from United Spirits Ltd.
"Tuladhar has acquired all shares held by United Spirits Ltd, India (a subsidiary of Diageo plc) in Nepal Liquors Pvt Ltd. Nepal Liquors has legal licence as a franchisee to bottle and market popular brands of United Spirits."
Nepal Liquors has various leading brands under its umbrella like Antiquity Blue Whisky, Signature Premier Whisky, Signature Rare Whisky, McDowell's No1 Whisky, McDowell's No1 Celebration Rum, and Blue Ribband Gin.