Nepal's largest hydroelectric projects in the offing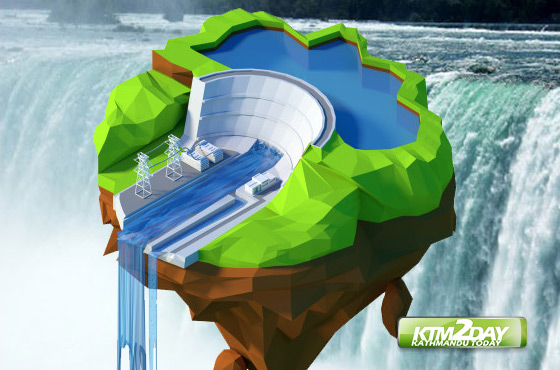 The Department of Electricity Development (DoED) is preparing to award a survey licence for the largest ever hydropower project in Nepal to state-owned Vidhyut Utpadan Company.
The Mugu Karnali Hydroelectric Project located in northwestern Nepal has an installed capacity of 1,902 MW. The 1,200 MW Budhi Gandaki Hydropower Project in central Nepal is the largest identified scheme so far.
Vidhyut Utpadan Company will undertake a study of the mammoth storage type project after obtaining the survey licence. The company applied for a permit at the department on April 15.
The DoED is currently reviewing the documents submitted by the company. If the department is satisfied with the paperwork, it will forward the application with its recommendation to the Ministry of Energy, Water Resources and Irrigation (MoEWRI) for final approval.
According to DoED Director General Nabin Raj Singh, the department will send the company's application to the ministry within a few days. "We have asked for a few additional documents from the probable developer, and once we get them, we will seek the ministry's approval for the licence," said Singh.
The DoED will award the survey licence to the company following the ministry's green signal. Vidhyut Utpadan Company will have two years to complete the survey. The reservoir project located on the Karnali River extends across Mugu, Bajura and Humla districts.
The company has received survey licences for three hydropower projects since its incorporation in October 2016: Kimathanka Arun (450 MW), Phukot Karnali (426 MW) and Jagdulla Hydro (307 MW).
Likewise, the government awarded the 410 MW storage type Nalsing Gadh Hydropower Project to the company by dissolving the development committee formed to build it.
The MoEWRI is planning to award around 19 projects in the government's basket to Vidhyut Utpadan Company and has informed the DoED about its intention. The company plans to gradually identify potential projects and apply for a licence at the department.
Vidhyut Utpadan Company was established under the Company Act 2006. The company will issue 17 percent of the shares to the general public. The Energy Ministry and the Nepal Electricity Authority (NEA) hold 20 and 10 percent of the stock respectively.
Likewise, the Finance and Law ministries each own 5 percent of the shares while the Employees' Provident Fund and Nepal Telecom have a 10 percent stake each.
Citizen Investment Trust, Hydroelectricity Investment and Development Company and Rastriya Beema Sansthan own 5, 4 and 2 percent of the shares respectively. The company will offer 10 percent of the shares to locals affected by its hydropower projects, and 2 percent will be allotted to the extremely poor.
The company has a paid-up capital of Rs300 million and an authorised capital of Rs20 billion.