Nepal Airlines decides to recruit 28 foreign pilots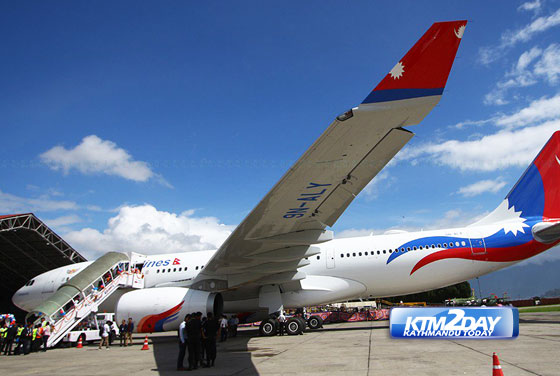 Nepal Airlines Corporation (NAC) has decided to recruit 28 foreign pilots, citing shortage of pilots to fly its aircraft.
Speaking at a press meet in Kathmandu on Tuesday, Sugat Ratna Kansakar, managing director of the national flag carrier, said it was a compulsion to hire foreign pilots until sufficient number of pilots is produced.
"We are on an expansion phase. NAC is acquiring aircraft and streamlining its administration. We need more human resources to implement our plan," he added.
NAC inducted first wide-body aircraft, Airbus A330-200, in its fleet on June 28. It is taking delivery of second Airbus A330-200 within three weeks. The national flag carrier
currently has a fleet of 12 aircraft – one Airbus A330-200, two Airbus A320-200s, one B757-200, two MA60s, four Y12Es and two Twin Otter aircraft.
"We need 116 pilots to operate 13 aircraft, including the second A330-200 that is joining our fleet within few weeks. However, we only have 88 pilots," Kansakar said, adding: "That is why we are recruiting 28 foreign pilots."
According to Kansakar, NAC has sufficient pilots to fly MA60 aircraft. It is producing eight pilots to fly Y12E aircraft internally.
"We can manage pilots for MA60, Y12E and Twin Otter from our workforce," Kansakar said, adding: "However, we need more pilots to fly our new jets."
NAC has often been criticized for hiring foreign pilots by paying huge salary. Currently, it is paying Rs 1.5 million per month (including tax) to three foreign pilots flying Airbus A320-200 aircraft.
Six pilots and six co-pilots of NAC are currently undergoing training to fly Airbus A330-200 aircraft. NAC needs another 12 Captains and 12 First Officers to operate the two Airbus A330-200 to full capacity. NAC estimates that it will have to pay foreign pilots Rs 1.7 million to Rs 1.8 million per month.
"We will begin pilot-hiring process very soon," he added.
NAC is also preparing to add two narrow-body aircraft by the end of 2019. "We are replacing our old aircraft with new aircraft," he said adding: "And the first priority of these narrow-body aircraft is to fly to destinations in India and China."