Prabhu Helicopter adds 5 helicopter to its fleet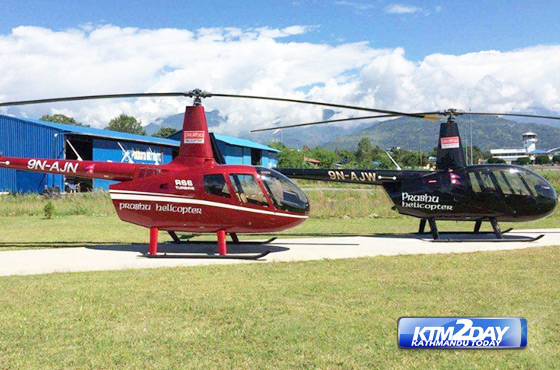 Prabhu Helicopter has brought five helicopters into operation from Monday, July 9. The company had started its operation with a single helicopter from 2015.
The fleet of Prabhu reached five after it procured two new helicopters this year. Previously, the company had procured a helicopter each in 2016 and 2017.
Prabhu is currently providing service with four Robinson R66 and a Robinson R44 helicopters manufactured in the United States. Robinson R66 can carry four passengers on board along with a pilot and Robinson R44 has the capacity to accommodate three individuals and a pilot.
The company said it has invested almost Rs 600 million for the five Robinson helicopters. Roshan Dangol, operation manager of Prabhu Helicopter, informed that the service of the company has become very crucial for assisting tourists for sightseeing of landscapes around Pokhara.
"We have started to operate five helicopters," he confirmed.
Apart from sightseeing operation, the company has also been also providing air rescue service with the helicopters. Dangol informed that the company is first to start sightseeing operation with a helicopter and the company after analyzing the interest of tourists has decided to extend its business.
Roshan Dangol along with Binod Thakali, Dev Prasad Bhattchan and Iccha Bahadur Dangol have invested in the company.
The company analyzing the increasing demand of helicopters for sightseeing, charter and rescue operations has increased its investment. Three out of five helicopters are operated from Pokhara-based station and two from Kathmandu, informed Dinesh Maharjan, business development manager.
"Maximum number of tourists in Pokhara are attracted by the mountains and we offer discount and help them to see the mountains from very near through our helicopter," Maharjan added.