India has agreed to build a gas pipeline to Nepal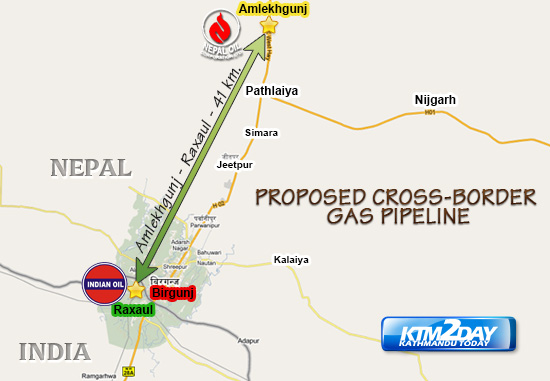 India has agreed to build a gas pipeline to Nepal to help it save on fuel transportation costs. According to the Ministry for Industry, Commerce and Supplies, India expressed its willingness during recent talks between Commerce Minister Matrika Prasad Yadav and India's Union Minister for Petroleum and Natural Gas Dharmendra Pradhan in New Delhi.
Joint Secretary Navaraj Dhakal said the two countries had agreed to discuss the modality of the construction during the meeting of the joint working group scheduled to be held on September 26 in Kathmandu. "The joint secretary level meet will discuss the possible alignment and construction modality of the pipeline," Dhakal said.
Ministry sources said India had given its preliminary consent to lay a pipeline connecting Motihari, India and Amlekhgunj or Chitwan in Nepal. India said it may start the construction work after the project to extend the pipeline to Motihari is completed, Dhakal said.
India is currently building an oil pipeline linking Motihari and Amlekhgunj. So far, 17 km out of the 36.2-km section of the pipeline which lies in Nepali territory has been completed, according to Nepal Oil Corporation (NOC). The alignment of the pipeline lies on the Birgunj-Pathlaiya road that is undergoing expansion into a six-lane highway.
Nepal's fuel imports have swelled sharply in recent years. In the last fiscal year, demand for cooking gas surged 18 percent to 370,560 tonnes, NOC said. The gas pipeline will result in savings of around Rs2 billion annually for Nepal by eliminating tanker trucks. Diesel and cooking gas accounted for 80 percent of the total fuel import bill of Rs170 billion in the last fiscal year, NOC spokesperson Birendra Kumar Goit said.
Goit, who also participated in the ministerial level meeting in New Delhi, said the joint working group meeting to be held in Kathmandu would fix the date to conduct a feasibility study for the proposed pipeline. According to him, the meeting is also expected to decide the issue of Nepali gas bullet movement in India that has remained pending for a long time.
India has been reluctant to issue an explosive licence to Nepali gas bullets saying that the existing Indian laws do not permit movement of Nepali cargo trucks. Nepali entrepreneurs are said to have procured 52 gas bullets after obtaining approval from NOC. A gas bullet costs Rs7 million.