Nepal China Expo 2018 to be held from Oct 5-9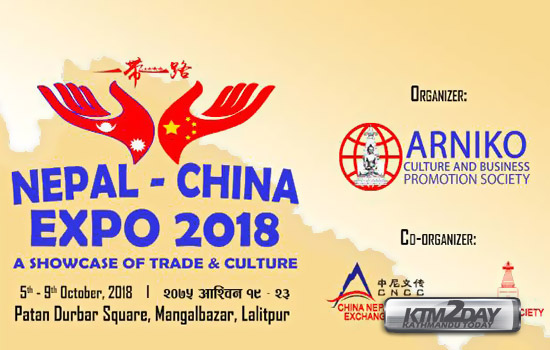 As the festive season is fast approaching, Araniko Culture and Business Promotion Society (ACBPS) in cooperation with China-Nepal Culture Exchange Centre is all set to provide a unique shopping experience to Nepali and tourists alike. The not-for-profit organisation has announced it will organise the Nepal-China Expo 2018, a five-day exhibition of products ranging from Nepali handicrafts to a wide range of consumer and household goods suitable for Dashain and Tihar.
"The exhibition scheduled for October 5 to 9 will have 60 stalls of various consumer goods and branded items from China along with an equal number of stalls of Nepali handicraft and herbal products and local food," said Ajar Man Joshi, president of ACBPS. "The expo will add quality to the lifestyle of Nepalis while attracting tourists to enjoy a unique shopping experience
inside the historical ambience of Patan Durbar Square."
He added that the event is being organised with an objective to promote trade and culture between Nepal and China.
Joshi highlighted that Patan had been chosen as the venue as it is a city of fine arts and birthplace of great artists like Araniko who spread craftsmanship and image of Nepal to China centuries ago.
"The exhibitors, visitors and tourists in Patan during the expo will have a unique shopping experience as well as enjoy cultural shows, art demonstrations and live bands," said Joshi. "There will also be a special fashion show demonstrating local dhaka and cotton products with an objective to promote textiles from eastern Lalitpur, especially Lubhu which is popular for its handloom industry."
"The exhibitors from China have confirmed bookings for 60 stalls which will showcase branded products from Beijing, Guangzhou, Senchen, Shanghai and Yiwu — the most popular city for Nepali traders," said Rupendra Raj Shakya, executive member of ACBPS.
According to the organisers, Nepali exhibitors have confirmed their bookings for wooden, metal and stone handicraft products along with herbal and other indigenous products. "We are working on the final preparations and we expect over two lakh visitors during the expo. We will soon organise a press meet to share details of our special and formal programmes during the event," said Sachin Joshi, treasurer of ACBPS.