Foreign tourist arrivals to Nepal surged18.8 percent in August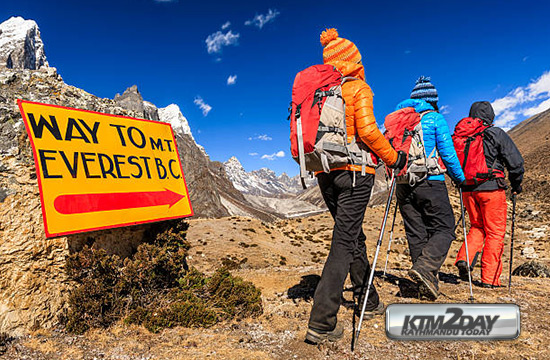 Foreign tourist arrivals to Nepal jumped 18.8 percent to 87,679 in August, largely due to strong growth from India, China and Sri Lanka.
According to Nepal Tourism Board (NTB), with the August data, the arrivals in January–August period reached 680,996, up 18.2 percent over the same period last year.
Tourist arrivals from India grew by a significant 37.3 percent to 19,295 individuals in August as compared to the same period last year. Similarly, visitor arrivals from China continued to soar with an exponential growth of 63.9 percent to 12,048 individuals.
Also Read – Nepal gets access to China ports, analysts say it's a 'huge deal'
Arrivals from Sri Lanka also surged 74.5 percent to 16,878 individuals in August, according to the board.Overall arrivals from the Saarc countries registered a strong growth of 48.3 percent in August as compared to the same period last year.
Arrivals from Asia (other than Saarc) also recorded robust growth of 36.6 percent. Likewise the number of visitors from Japan and Malaysia also increased by 3.7 percent and 34.9 percent respectively.
European markets generated 21.3 percent more visitors in August this year. Arrivals from the UK, Germany and France increased by 21.7 percent, 31.9 percent and 25.7 percent respectively. However, arrivals from the Netherlands declined by 30 percent.
Australia and New Zealand also witnessed growth of 39.8 percent and 18.5 percent respectively in August 2018 as compared to the figures of 2017. Similarly, the number of visitors from the US and Canada both jumped by 15 percent in August.
While the neighboUring countries remain the most dependable and strongest source markets for Nepal, the continuous growth trend has been attributed to the board's efforts to allure expanding travelling classes in India and China, the country's tourism promotional body NTB said.
Better positioning of Nepal's tourism endowments has also enhanced Nepal's image and resulted in increased interest from major source markets, it said. "Cooperation and partnership between the public and private sectors also played a pivotal role in the growth of tourist numbers."
The NTB said that Nepal has witnessed sustained growth amidst a global hike in oil prices and the consequent increase in transport cost which has trimmed down visitor's length of stay and consumption of tourism services. The board and the government are expecting to receive 1.2 million foreign tourists this year.
Arrivals in August
Country
Number
Growth
India
19,295
37.3 %
Sri Lanka
16,878
74.5 %
China
12,048
63.9 %
USA
4,628
15.0 %
UK
3,619
21.7 %
Source:NTB