US-Bangla applies for TIA slot for daily scheduled flights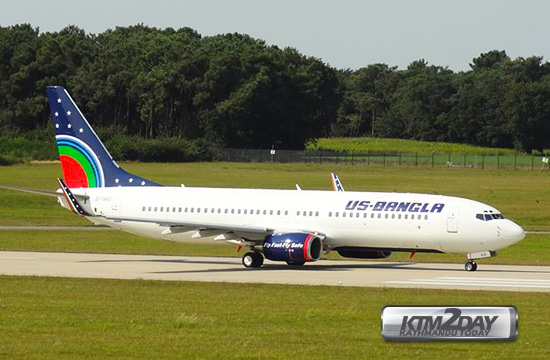 Bangladeshi carrier US-Bangla Airlines has applied for resumption of its Kathmandu operation, seven months after suspending operations following the deadly crash at the Tribhuvan International Airport (TIA) in March. Fifty-one people were killed in the crash.
But it seems "highly unlikely" that the airline will get the airport's slot any time soon, said a high-level source at the Civil Aviation Authority of Nepal (Caan). The carrier has planned daily scheduled flights from October 28.
Also read – Yeti Airlines adds third ATR 72-500 aircraft into its fleet
"It's because of unprofessional comments directed towards TIA by the airline's top executives when the investigation was ongoing," he said. "It was a blame game which we deemed as unprofessional conduct by the airline's officials."
Immediately after the crash in March 12, the US-Bangla Airlines Chief Executive Officer Imran Asif had claimed the Tribhuvan International Airport authorities were at fault. He said the air traffic control tower issued incorrect information which led to the crash.
According to the investigation report published by the Post, the pilot was under tremendous mental stress and anxiety which caused the pilot to make a series of erroneous decisions, ultimately leading to the crash.
The airline had shut down all flight operations between Dhaka and Kathmandu for an indefinite period, two days after the crash.
"We received the application from US-Bangla two weeks ago. We are yet to decide on the application," said Rajan Pokhrel, deputy director general of Caan. Pokhrel, however, did not clarify whether a landing slot will be allocated for the airline.
But he said that the TIA has been facing severe congestion and it was very difficult to allocate the airline a slot.
According to media reports, technical glitches forced a domestic flight of US-Bangla Airlines, carrying 171 people, to make an emergency landing at Shah Amanat International Airport, on Wednesday.
The Cox's Bazar-bound flight from Dhaka made a 'technical landing' at 1:12pm (local time) on Wednesday.
The front wheel of the aircraft did not open, forcing the pilot to make a technical landing, the reports said, adding that all passengers and crew were safe.