Nepal imported automobiles worth Rs. 8 billion this fiscal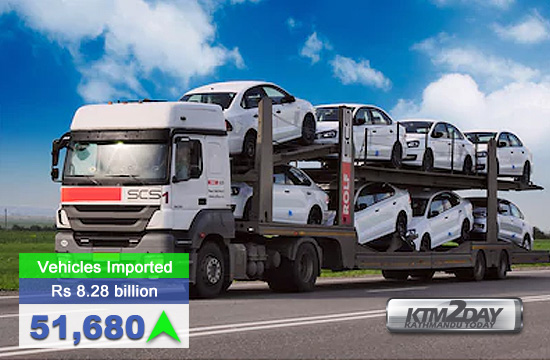 Vehicles worth Rs 8.28 billion were imported to Nepal from India and other third countries till the first two and a half months of the current fiscal year. Out of total revenue collected from the Birgunj Customs Office, 40 per cent revenue was collected from the vehicles, said Customs Officer Santosh Yadav.
A total of 51,680 vehicles were imported till October 1 in the current fiscal year, the officials said.
Also read – India agrees to extend Amlekhgunj-Motihari petroleum pipeline to Chitwan
Motorcycles, auto rickshaw, ambulances, tractors, jeeps, cars, vans, electric vehicles, buses, mini-buses and micro-buses were imported. Of them, 90 per cent of the vehicles were imported from India while 10 per cent others were from the third countries.
Revenue Officer Yadav said that increment in revenue is the result of vehicles' price hike, widened ambit of tax and more number of vehicles' import.
Vehicles worth Rs 6.86 billion were imported during the same period of the previous fiscal year from Birgunj Customs Point.