Nepal Army to provide "Free Bus Service" on Tika day in these routes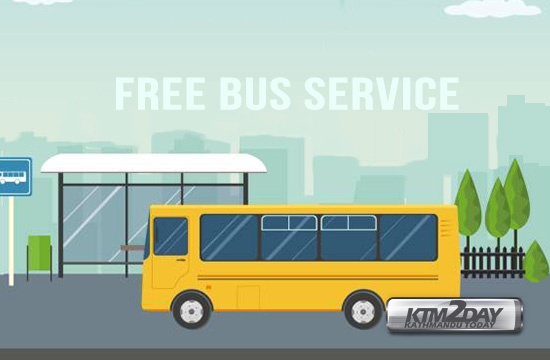 For the convenience of the general public commuting on the day of Dashain Tika or Vijaya Dashami i.e. 19th October , Nepal Army is going to provide free bus services in several routes inside the Kathmandu valley.
Buses are common mode of transportation and during the festival days it remains off road leaving passengers in a lurch.
The national military organisation says it will operate the buses along eight routes as very few public vehicles will be available on the main day of festival.
A 30-seater bus will leave the Bhadrakali station at 7 am, 11 am and 3 pm on the day.
The routes that the buses will ply are as follows:
Bhadrakali, Maitighar, Baneshwor, Koteshwor, Ekantakuna, Balkhu, Kirtipur, Kalanki, Kalimati, Tripureshwor, Ratnapark
Bhadrakali, Jamal, Lainchaur, Narayan Gopal Chok, Budhanilakantha, Balaju Chok, Sorhakhutte, Kantipath, Maitighar
Bhadrakali, Maitighar, Tripureshwor, Kalimati, Kalanki, Thankot, Swayambhu, Chhauni, Tahachal, Teku, Thapathali
Bhadrakali, Maitighar, Baneshwor, Tinkune, Gaushala, Chabahil, Jorpati, Narayangopal Chok, Lazimpat, Kantipath, Bhadrakali
Bhadrakali, Thapathali, Kupandol, Jawalakhel, Satdobato, Chapagaun, Satdobato, Tinkune, Baneshwor, Sahidgate
Bhadrakali, Durbarmarga, Kamal Pokhari, Gaushala, Chabahil, Bauddha, Sankhu, Chabahil, Gaushala, Tinkune, Bhadrakali
Bhadrakali, Maitighar, Naya Baneshwor, Purano Baneshwor, Gaushala, Sinamangal, Koteshwor, Surya Binayak, Thimi, Koteshwor, Maitighar, Bhadrakali
Bhadrakali, Maitighar, Koteshwor, Satdobato, Kalanki, Balaju, Chabahil, Gaushala, Tinkune, Bhadrakali
Nepal Army is also preparing to provide free transportation services to its staffers and their family members going outside the Valley for Dashain celebrations from OCt 11-17.
Nepal Army spokesperson informed that the long route buses will drop and receive the NA staffers and five of their family members from Kathmandu to Itahari, Hetauda, Dolakha, Ramechhap, Gorkha,Chautara, Trishuli, Dhading, Butwal, Pokhara, Dhangadhi,Siraha-Rajbiraj and Narayangarh.
According to NA, the buses will be running from 6am until 4pm from Bhadrakali.