Twisting Scoops to bring Turkish Dondurma Icecream chain to Nepali market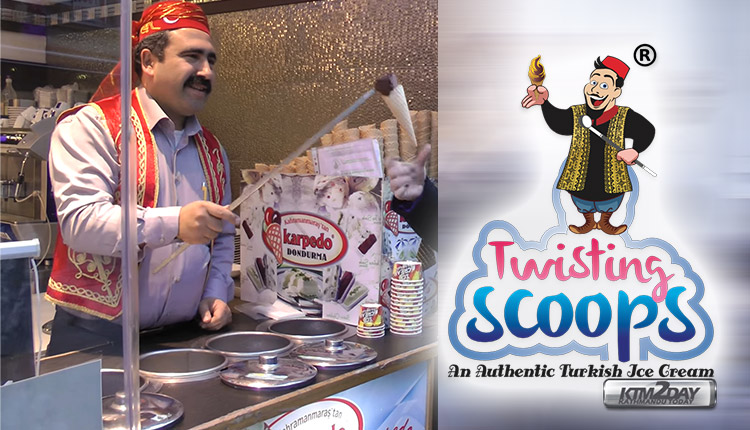 A new international ice-cream franchise is soon to be introduced in the Kathmandu Valley, promising a totally new experience to the consumers.
Co-founded by Bibhushan Sharma and Niskarsh Ghimire, Creative Mills has brought Twisting Scoops to Nepal for the first time.
The Turkish ice-cream brand claims to focus both on showmanship and product delicacy. "Consumers will be served ice-cream scoops by performing interesting tricks with the ice-cream scoop and the cone," Sharma said.
According to the duo, there is a secret ingredient in the ice-cream that prevents it from melting and becoming sticky, allowing for servers to perform various tricks with the scoop.
The franchise will initially serve 20 flavors of ice-cream, which may be extended and altered according to the Nepali taste. All its ice-cream varieties are fully vegetarian, according to the duo. They plan to branch out the franchise across Nepal in future.
The first outlet will be at Naxal Bhatbhateni, and the tentative launch date is April 13th, according to Sharma. "There is no doubt that the stall will be one of a kind," the duo stated. The co-founders claimed that their selling of ice-cream scoops was an art, quite similar to bartending.

Creative Mill also hopes to focus on Turkish coffee and dondurma cakes in near feature.
According to the due, Turkish coffee is water based and is heated above a sand container, which makes it unique.
Servers, who are to present the ice-cream in a way similar to 'magic tricks', will get trained by professionals in India. They will be wearing Turkish attires throughout the duty hours.
Twisting Scoops began as a joint venture between an Indian company called Twisting Diaries and a Turkish company called Maharaj. The company's plan is to expand the franchise into South Asia, starting with Nepal.
The company will be serving consumers with the tagline 'Spreading Happiness since 2019.'