Government to launch massive 3,479 MW schemes on hydropower investment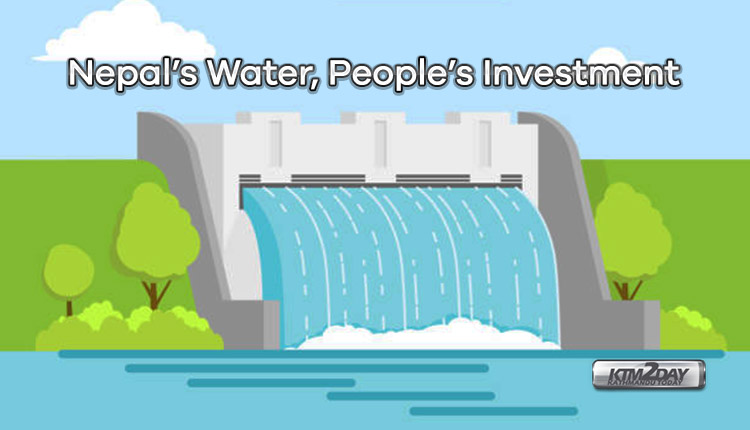 A massive government scheme that aims to raise Rs 102.3 billion from the public to build over one-and-a-half dozen hydropower projects will be launched tomorrow with the purchase of primary shares of a 37-megawatt hydroelectric project by Prime Minister KP Sharma Oli.
The scheme named 'Nepal's Water, People's Investment' aims to generate 3,479 megawatts of electricity by investing Rs 698.8 billion in 19 hydropower projects. Of this investment, Rs 208.7 billion will be in the form of equity and the remaining in the form of debt. The government is making equity investment of Rs 106.4 billion in the scheme, which is equivalent to 51 per cent of the total equity investment. The remaining equity investment will come from the public.
As per this plan, PM Oli will be purchasing shares of 37MW Upper Trishuli 3B hydropower project located in Nuwakot tomorrow as a public. The PM had earlier said he was keen on purchasing shares to encourage the public to take part in the government's flagship scheme.
The number of shares that PM Oli is purchasing, however, has not been finalised, according to Prabin Aryal, spokesperson of the Ministry of Energy, Water Resources and Irrigation.
The PM has opened two demat accounts in Global IME Capital and Nepal DP Limited to purchase the shares. The demat accounts enable electronic settlement of share transaction.
Although the government has launched the scheme by floating shares of the Upper Trishuli 3B hydropower project, it is not know when shares of other 18 hydropower projects will be available to the public.
Even in the Upper Trishuli 3B hydropower project, state-owned Nepal Electricity Authority and Nepal Telecom have 60 per cent stake. This is expected to create problems as the government has pledged to offer 49 per cent shares of the project to the public.
The Securities Board of Nepal, the securities market regulator, has said the project need not get an investment rating from accredited rating agencies as it is backed by the government.
The construction of Trishuli 3 B hydropower project formally began on February 10. The project is located at Ward No 5 of Kispang Rural Municipality of Nuwakot. "To drive up people's interest in the project, we have decided to provide interest to public investors until the project starts generating returns on its own," said MoEWRI Secretary Dinesh Kumar Ghimire.
The ministry said that 19 projects in the 'Nepal's Water, People's Investment' scheme are spread across all the provinces to ensure all the people get the opportunity to buy shares of hydropower projects.