Raspberry Pi 4 launched with faster CPU, 4K support and upto 4 GB RAM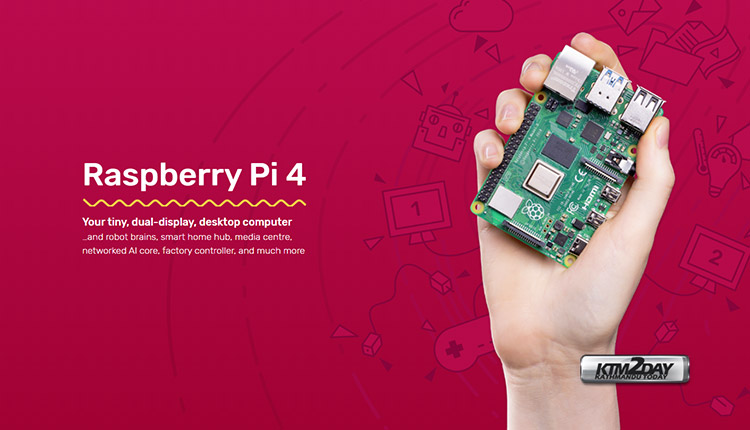 The Raspberry Pi Foundation announced the release of the Raspberry Pi 4 . This is a new generation of single-board computers is based on the SoC Broadcom BCM2711 with a quad-core 64-bit Cortex-A72 processor (ARM v8) operating at 1.5 GHz and a hardware H.265 decoder.
It is assumed that the Raspberry Pi 4 Model B will be at least three times faster than its predecessor, thanks to a quad-core 64-bit ARM Cortex-A72 processor with a clock frequency of 1.5 GHz. Promised three options for RAM: 1 GB, 2 GB and 4 GB.
The new model offers support for dual monitors with resolutions up to 4K and boasts hardware decoding of 4Kp60 HEVC video. For the ports there are two USB 3.0 (one used for power) and the other USB 2.0. Finally, Gigabit Ethernet, Bluetooth 5.0 and dual-band Wi-Fi 802.11ac have also been included.
The estimated price of the basic version will cost$ 35, while model with 2 GB is priced at $ 45, and the premium model will cost $ 55.
The Raspberry Pi 4 with support of more components now needs more power juice hence it requires a USB-C connection to draw its power instead of the old microUSB .
The Raspberry Pi 4 also comes with new accessories, such as covers, power supplies and cables. There is also an option with an updated desktop kit, which costs $ 120  and includes the device itself, the official case, power supply, mouse and keyboard, a couple of HDMI cables, a beginner's guide and a 32GB microSD card.
The company has stated that there will be full compatibility with earlier products of Raspberry Pi.
Specification
Raspberry Pi 4 Model B
Here are the highlights:
A 1.5GHz quad-core 64-bit ARM Cortex-A72 CPU (~3× performance)
1GB, 2GB, or 4GB of LPDDR4 SDRAM
Full-throughput Gigabit Ethernet
Dual-band 802.11ac wireless networking
Bluetooth 5.0
Two USB 3.0 and two USB 2.0 ports
Dual monitor support, at resolutions up to 4K
VideoCore VI graphics, supporting OpenGL ES 3.x
4Kp60 hardware decode of HEVC video
Complete compatibility with earlier Raspberry Pi products