Oppo's Mesh Talk app works without cellular network and internet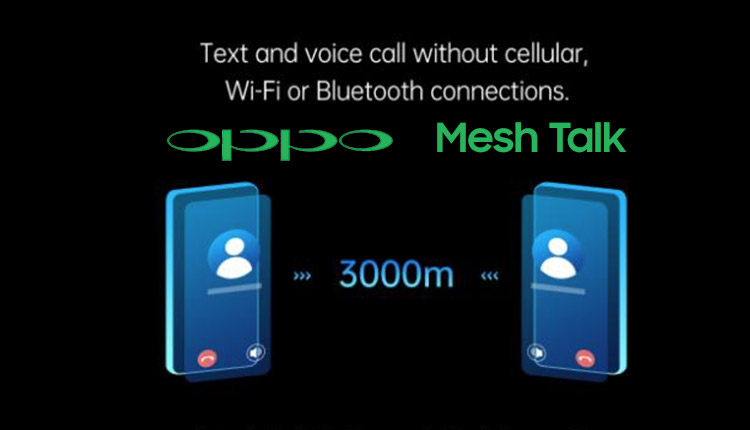 At the MWC 2019 in Shanghai, OPPO also introduced a new proprietary technology for decentralized data exchange MeshTalk , which allows you to send text and voice messages, as well as make voice calls between OPPO devices up to 3 km away without using cellular networks, Wi-Fi or Bluetooth.
OPPO MeshTalk technology also allows you to combine multiple devices into local area networks (LANs) and create group chats, increasing the range of communication using the signal broadcast function. MeshTalk technology supports LAN communication when OPPO devices are in the range of receiving signals from each other.
To develop MeshTalk technology, OPPO optimized the communications chip to provide decentralized data exchange, increase distance, and reduce power consumption. MeshTalk is an innovative solution for end-to-end data exchange without base stations, servers and other devices, providing users with a higher level of privacy. MeshTalk is expected to be widely used in extreme conditions, in emergency communications and in some situations outside the city limits.
In addition to these two advanced technologies, OPPO also introduced its latest achievement in 5G and IoT – OPPO Reno 5G can launch large-scale mobile games in the cloud via the 5G network, allowing users to enjoy cloud gaming. In Iot Smart Home Zone, OPPO introduced IoT an open platform that is compatible with more than 260 devices of various brands from more than 20 categories.
The needs of users and the development of advanced technologies have always motivated OPPO to apply their innovative developments to provide consumers with optimal solutions.
The technologies presented by OPPO at the MWC 2019 in Shanghai demonstrate its exceptional achievements in the smartphone industry.
The company is ready for the era of 5G communications and seeks to create solutions based on the integration of full-featured 5G technology that will provide intelligent communication capabilities.
In the near future, OPPO will continue to simplify the implementation of scenarios for the use of 5G networks and intelligent communications.