Wingtech unveils world's first Snapdragon 865 smartphone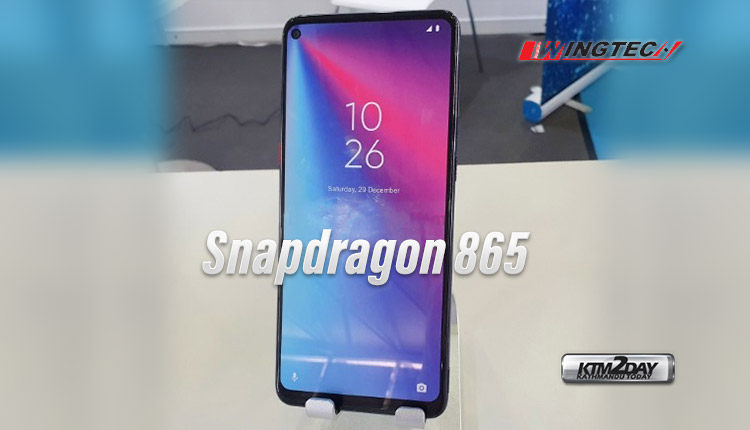 Qualcomm publicly introduced its new chipset late last year, but it turned out to be Snapdragon 855. At the moment, this can be found in a huge number of high-end smartphones, including Sony Xperia 1, Xiaomi Mi 9, Redmi K20 Pro,Samsung Galaxy S10 , OnePlus 7 Pro and many others.
However, a more productive chipset has already been created, and it's Qualcomm Snapdragon 865, and there is already the first smartphone running on this chipset. This was created by Wingtech from China, which is testing the latest developments of the American corporation.
Wingtech is a the world's largest major smartphone assembler for some of the country's top brands  such as Redmi and Meizu to produce their low-cost budget smartphones.
Since the work on the chipset is still underway, the presented smartphone is only a prototype, but fully working. It was showcased at the MWC Shanghai 2019 exhibition, and in fact, the new device drew attention only after the end of the event, since the company had no official stall at the event. Only some journalists have discovered that the "heart" of this mobile device from Wingtech is a genuine eight-core Snapdragon 865 processor that is top notch. The device is further complemented by a X55 modem that supports 5G networks at up to 7 Gbps.
The smartphone has not been assigned a model name, because it is only a prototype, but its specifications are known. So, in particular, this new product is equipped with a 7-inch AMOLED display with a resolution of 2240 by 1080 pixels (FHD +), a triple main (64 Mp + 13 Mp + 8 Mp) and 16 Mp front cameras, as well as a 4500 mAh battery pack . The fingerprint reader on the Wingtech smartphone is not built into the screen. In order to simplify the design of the case, it is placed on the rear panel, which is made of glass Corning Gorilla Glass 6.The device is coupled with 4/6 GB of RAM and 64/128 GB of internal memory.
In the communication department, it has Wi-Fi 802.11ax, Bluetoth 5.0 LE and NFC to work with the Google Pay system and any of its counterparts.
According to Wingtech official representatives, this phone will be launched on the market in early 2020, and by the time of release, its specification and appearance will change. Unfortunately, disclosure of the specification of the Snapdragon 865 chipset brand has refused, because its against the terms of Qualcomm. However, everyone is shocked by the fact that in the world there is already a phone that is much more powerful and more productive than available in the existing flagship market.