Redmi K20 Pro Gamepad launched in China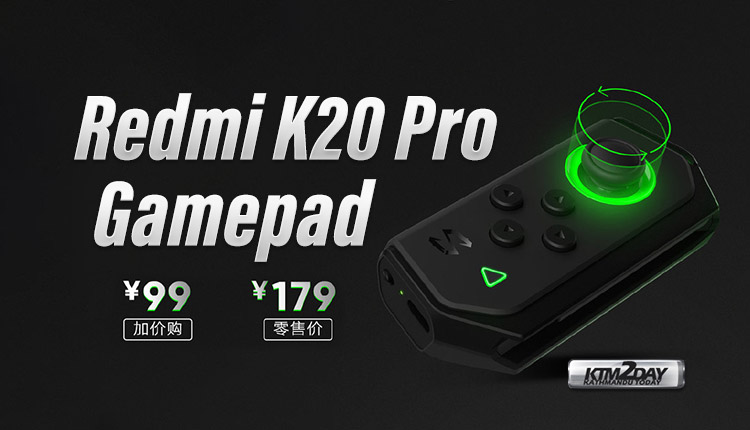 This morning, Redmi officially announced the gamepad device for the Redmi K20 Pro along with its price. It is reported that the retail price of the Redmi K20 series custom version gamepad which was originally launched for the Xiaomi Black Shark gaming smartphone is 179 yuan(NRs 2855), and if purchased along with Redmi K20 series customers can get additional discount and get this for only 99 yuan(NRs 1580).
From the official picture, the custom version of the gamepad device is not much different from the original version that was launched for Black Shark gaming smartphone, the button design is consistent, and has a strong e-sports style.
The front of this gamepad is equipped with a joystick, a function button and four direction buttons. There are two shoulder buttons (LT, LB) on the top. The four-way button and function button can be customized, such as in-game attacks, toggle the mirror in racing games, return to the default screen, take pictures, scroll pages etc. in non-game apps. The gamepad is connected via Bluetooth, and the official claims that the delay is lower than that of a touch.
Redmi K20 Pro Gamepad can be connected to the left or right edge of the phone when the handset is held in landscape mode. It includes a joystick, map-able gaming buttons, Bluetooth 4.2 connectivity and a 340mAh battery.
The gamepad can also be connected to a basic Redmi K20 device which is powered by a Snapdragon 730 processor along with Adreno 616 GPU.
Since the gamepad's design is based on the original Black Shark gamepad device, it is also compatible with few other devices from Xiaomi such as the Xiaomi Mi 8 along with Redmi K20 series of devices.