Samsung Galaxy Note10+ 5G Earns First Place on DxOMark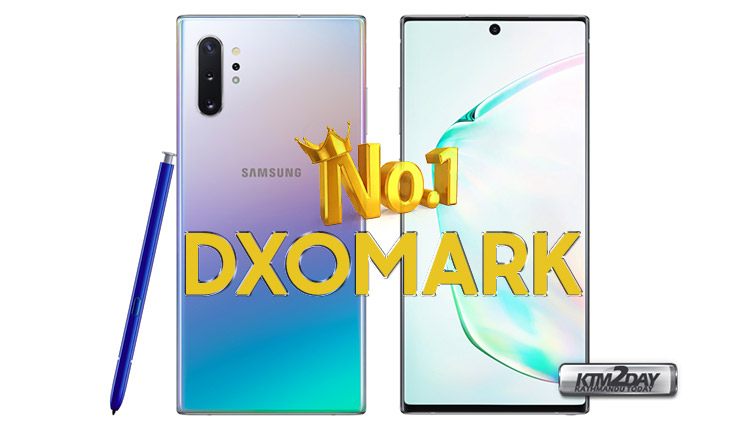 Samsung Electronics today announced that the new Galaxy Note10+ 5G has received the number one ranking on the DxOMark both front facing and rear facing cameras, as well as the top score for video. The DxOMark scale provides a ranking system to evaluate the image and video quality of smartphone cameras. The Galaxy Note10+ 5G was unveiled during last week's Unpacked event at the Barclays Center in Brooklyn, New York, alongside the Galaxy Note10+ which delivers the same image and video quality experience.
The Galaxy Note10 and Galaxy Note10+ put state-of-the-art tools to capture stunning video and photos at users' fingertips and have been built with content creators and everyday users in mind. Through a combination of advanced imaging technology and software, the Galaxy Note10 takes videography and photography to the next level, allowing the user's social media channels, stories and posts to make an even bigger impact.
The Galaxy Note10+ 5G scored first place distinction on the DxOMark Selfie scale for its front facing camera with a score of 99, and it also received first place, earning an overall mobile score of 113, for its rear cameras.


The Samsung Galaxy Note10 and Note10+are equipped to capture pro-grade video without requiring extra gear. Featuring Live focus video and Zoom-In Mic to enhance and amplify video content, Note10 brings priority subjects – both images and audio – to the forefront. New Super steady stabilizes the footages – even during Hyperlapse mode.
Galaxy Note10 users can also edit-on-the-go, without having to connect to their PC. The native video editor enables easy editing functionality right on the phone. With the S Pen, users can choose the precise moment they want to trim. Additional features, including Screen recorder, AR Doodle, 3D Scanner and Night Mode on the front facing camera, round out an upgraded Galaxy Note10 camera experience that has resulted in this high accolade from DxOMark.
DxOMark – a trusted industry authority for camera, lens and smartphone image quality measurements and ratings – conducts its DxOMark Selfie and DxOMark Mobile tests following a rigorous scientific protocol using industry-grade lab tools. The score sums up their engineers' assessment of a devices' photo and video quality to provide consumers with neutral and reliable test data about smartphone camera performance. DxOMark assigns sub-scores for photo and video quality and then combines them into an overall score.