TVS Nepal announces festive offer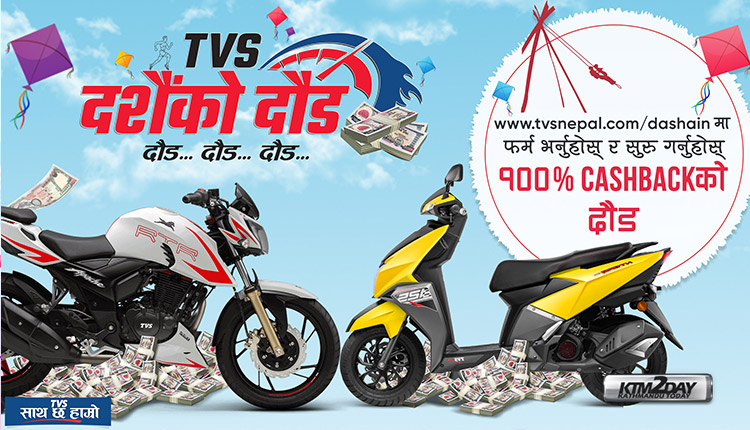 On the advent of the greatest festivals of Nepal, Jagdamba Motors, the sole distributor of TVS two-wheelers in Nepal, has launched a consumer promotion 'TVS Dashain Ko Daud'.
This is a scheme where customers will get multiple chances to win cash prizes. Anyone can participate in this scheme without necessarily having to make a purchase or even visiting any TVS showroom, as per a media release. To participate in this scheme, one just has to visit the site https://tvsnepal.com/dashain and fill in the details in the given fields and submit it.
The amount a person can win can vary from Rs 5,000 to Rs 100,000. This amount will be reimbursed to the customers in the form of discount while making purchase of any TVS two-wheeler from any showroom in Nepal.
Moreover, the customer will get another chance to win prizes while making purchase of any TVS two-wheeler, as his or her purchase details will again be entered in the system by the distributor and the customer can again win thousands, which could go up to a stunning 100 per cent cash back prize.
Every customer will win some amount in the second round too and the total of the amount the customer has won in the first time and the amount won in the second time while making the purchase will be added up and the total amount will be allowed as discount on the purchase.