DJI announces Mavic Mini : Lightest Drone for Everyone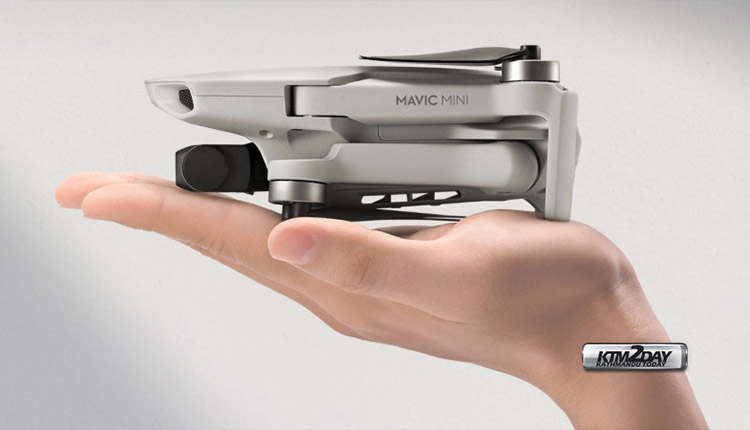 The Chinese company DJI is conquering every new heights in the miniaturization of its drones. A new big step on this path was the latest folding Mavic Mini from DJI ,weighing only 249 grams.
Mavic emphasizes that with a lighter weight the Mavic Mini may not have to comply with certain regulations applied to heavier drones, thanks to its 249 grams of weight , although it is not necessary to consult the FAA at least in the US .
When folded, the device occupies only 140 × 82 × 57 mm (and when unfolded with propellers – 245 × 290 × 55 mm). Despite the miniaturization, the device retaines the main features of the more advanced DJI drone – the Mavic Air (weighs 430 grams), and in some aspects even surpassed it. For example, if Mavic Air provided up to 21 minutes of flight, then Mini is able to boast a 30 minutes of flight time.
As the device weights less than half a kilo and almost 30% of what the Mavic 2 Pro weighs, this could be a game changer in aerial photography.
The Mavic Mini boasts a maximum range of 4km, or roughly 2.5 miles, and promises up to 30 minutes of flight time, which is pretty impressive for a drone of this compact size. GPS receivers and downward visual sensors mean precise hovering and stable flying, and a 2.7k video at 30fps puts it ahead of the Mavic Spark, which topped out at FHD.
Features of the DJI Mavic Mini
Fits in your palm
Flies to a distance of 4 kilometers
Weighs only 249 grams
It has a range of 30 minutes
Maximum speed of 13 meters per second
FullHD recording camera at 60fps or 2K at 30fps
Android and iOS connection
It is worth mentioning, however, that on the product page there are two Intelligent Flight Battery mentioned: the first one is a  lithium-ion weighing 100 g with a capacity of 17.28 Wh and the lithium-polymer weighing 50 g and more than half the capacity at 8.36 Wh . It can be assumed that the weight of 249 g is indicated taking into account a lighter battery, and a flight time of 30 minutes is for a heavier one.
At the same time, a full-fledged 3-axis stabilizer and the ability to fly up to 4 km (in the American FCC mode) or up to 2 km (in the European Russian mode) migrated to the miniature drone. The camera and sensor also remained almost the same: the Mini can offer a 1 / 2.3 " CMOS sensor with a resolution of 12 megapixels, a lens with a viewing angle of 83 ° (24 mm in 25 mm equivalent) and an f / 2.8 aperture. Even the focus is not fixed, but variable, from 1 m to infinity. There are collision protection and positioning sensors, as well as a GPS receiver.
There are, however, very noticeable shortcomings: in sports mode, the Mavic Mini can fly at speeds up to 13 m/s against 19 m/s in the Mavic Air. In addition, the maximum video resolution is 2.7K (2720 × 1530 at 30 frames/s) or 1080p (1920 × 1080 at 60 frames/s) with a video stream of only 40 Mbps. For comparison: Air supports 4K / 30p at 100 Mbps. HEVC support could somewhat compensate for the low bit rate, but it is not there either.
DJI also significantly reduced its photo capabilities: for the first time in the Mavic family, the Mavic Mini does not support shooting photos in RAW format – there is only support for JPEG. Obviously, the manufacturer is afraid of competition within its own family of drones and limited the photo and video capabilities of the device, because today even inexpensive smartphones can boast of RAW or 4K video.
Additionally, the DJI Fly mobile application contains various templates that allow you to create great videos with one click (e.g., Droni(selfie from the drone), Circle, Spiral and Rocket). Even beginners without video editing experience will be able to make professional videos. And the Fly More kit includes plastic protection for 360 ° propellers, allowing you to safely shoot indoors.
The Mavic Mini is available in two options — The Everyday Flycam and Fly More Combo.
A basic set of a drone – The Everyday Flycam with a controller and one battery costs $ 375 in the United States, and the Fly More Combo, which includes 3 batteries, a charger, propeller protection and a carrying bag costs $ 485. The company also released a number of accessories.