83% mobile users not satisfied with service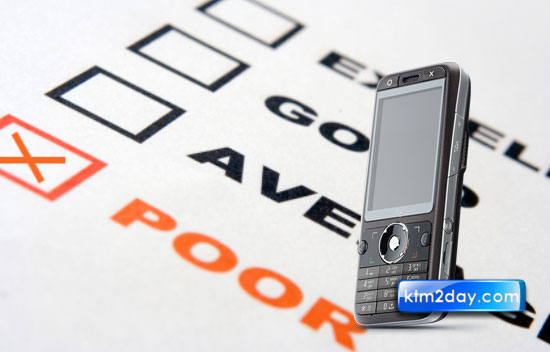 A recent study of consumption trends in the Kathmandu Valley—the major telecom market—has shown that over 83 percent of mobile subscribers are not satisfied with the service. The report has urged the government to start monitoring the telecom sector including other service sectors.
The survey has also underlined the need to create competition in mobile service besides basic telecom service so that people would get a chance to choose a better service.
The survey was conducted among 1,080 consumers through random sampling during the period mid-May to mid-July 2011 by the Department of Commerce.
Out of the total subscribers interviewed, 49.9 percent said that the basic telecom service was reliable while 50.1 percent said the service was not reliable. Nepal Telecom (NT) and United Telecom are providing basic telecom services in the Kathmandu Valley. Likewise, state-owned NT and Ncell offer mobile services.
"Our study has shown that mobile service is irregular," said Anil Kumar Thakur, director general of the Commerce Department. He added that only 16.89 percent said that mobile service was proper. The quality of telecom services has long been criticised by consumers particularly with regard to mobile service. However, there has not been any improvement despite the direction of the parliamentary Public Accounts Committee and the regulatory body, the Nepal Telecommunications Authority.
There are over 15 million mobile users in the country with the penetration rate reaching over 40 percent of the total population. However, the service providers have not been able to provide quality service. To find out the quality of service, the Nepal Telecommunications Authority is undertaking a study in four major cities — Kathmandu, Pokhara, Biratnagar and Nepalgunj — which have the largest number of subscribers.
"We have been directing operators to improve the quality of service time to time, however, the quality has not improved despite their assurances," said a senior official at the authority. "The authority might come up with a strict directive following the result of the ongoing study in the four cities."
A quality survey conducted by the authority last year had illustrated that the service quality of all the major operators was below the benchmark of 90 percent. The authority's report showed that Nepal Telecom's landline service had a call quality rate of 81.10 percent, GSM mobile 69.60 percent and CDMA 76.10 percent. Likewise' Ncell's GSM mobile service scored 84.50 percent and United Telecom's CDMA service 80.80 percent.
"Operators not providing quality service can be fined up to Rs 300,000 and jailed for up to five years as per the consumer rights law," said Jaggannath Mishra, secretary of the Forum for Consumer Rights Protection. He added operators were more focused on expanding the market than improving the service and the concerned government authorities like the telecom authority and the Department of Commerce had not showed interest in monitoring the service and taking action accordingly.   (Source:ekantipur)