Air arrivals up 24pc in first seven months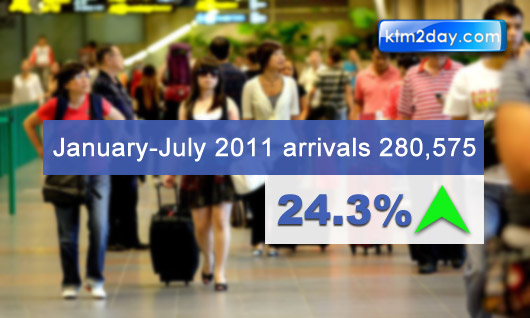 Nepal welcomed 280,575 air tourists in the first seven months (January-July) of Nepal Tourism Year (NTY) 2011, up 24.3 percent from the same period last year.
According to the Nepal Tourism Board (NTB), visitor arrivals in July increased 20 percent to 35,212 compared to the same month last year.
Arrivals from the South Asian region have gained an overall positive growth of 21.7 percent with the number of visitors from India, Pakistan and Sri Lanka growing 24.5 percent, 58 percent and 70.8 percent respectively. However, arrivals from Bangladesh dipped 11.2 percent.
Visitor arrivals from Asia (other than the South Asia region) have also recorded a healthy growth of 56.6 percent. China, another major source market, recorded a phenomenal growth of 127.7 percent.
There have been healthy gains in arrivals in the first seven months of NTY from two major markets targeted by the NTY Implementation Committee for NTY 2011—India and China. According to the NTB, tourist arrivals from India and China soared 45.7 percent and 47.5 percent respectively.
Visitor arrivals from Malaysia grew 18.9 percent while Singapore, South Korea and Thailand posted gains of 36 percent, 23.9 percent and 107.1 percent respectively. However, arrivals from Japan saw a negative growth of 7.9 percent compared to July 2010. The decline in arrivals from Japan was expected with the country still grappling with the earthquake and nuclear disasters.
With regard to long-haul markets, Europe registered an overall negative growth of 5.6 percent with major source markets showing mixed performances in terms of visitor arrivals. Arrivals from the UK, France and Belgium rose 7.1 percent, 4.7 percent and 31.4 percent respectively while Germany, the Netherlands, Spain recorded negative growths of 45.3 percent, 24.1 percent and 21.1 percent respectively.
Meanwhile, arrivals from long-haul markets like the US, Australia and New Zealand registered growths of 16.8 percent, 32 percent and 107.1 percent respectively. Canada showed a decrease in arrivals of 8.6 percent.
A total of 36,788 foreign tourists departed from Kathmandu's Tribhuvan International Airport in July 2011.(Source:ekantipur)