Air passengers decrease by 6%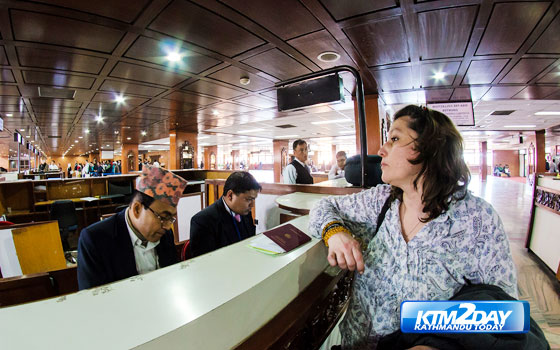 Tribhuwan International Airport (TIA) handled 2.65 million passengers in the first 10 months of 2015. The figure is 5.99 percent lower compared to arrival figures of the same period of 2014 when the country's only international airport had handled 2.66 million passengers.
TIA served 1.37 million outgoing and 1.28 million inbound passengers in the review period.
Aviation experts have long been questioning service quality of TIA, saying that the airport's capacity has already reached saturation point.
Speaking at a program organized to mark the 17th anniversary of Civil Aviation Authority of Nepal (CAAN) on Thursday, Dinesh Kumar Thapaliya, secretary of Ministry of Culture, Tourism and Civil Aviation (MoCTCA) said there is no reason for CAAN to be satisfied until and unless passengers are satisfied with aviation services in the country. He also underlined the need to enhance air service as it is regarded an important yardstick for measuring development.
According to CAAN, National Civil Aviation Safety Committee recently held a meeting to discuss on ways to enhance air safety issues and remove the significant safety concern (SSC) imposed by the European Union.
Thapaliya also said that the ministry will now sign performance contract with staffers holding important posts so that it will be easier to find where the fault lies and can be improved immediately.
Sanjiv Gautam, director general of CAAN, said decline in number of air passengers is mainly due to adverse situation in the country mainly due to earthquake and the blockade situation because of which Nepal Oil Corporation (NOC) could not supply Aviation Turbine Fuel (ATF) to airliners" "It will directly affect our revenu"," he added.
During the program, CAAN rewarded best employees with cash prize of Rs 20,000 and letter of appreciation each. Similarly, 36 staff received 'Life Time Service Award'.