Airlines offer 10% festive discount on domestic airfare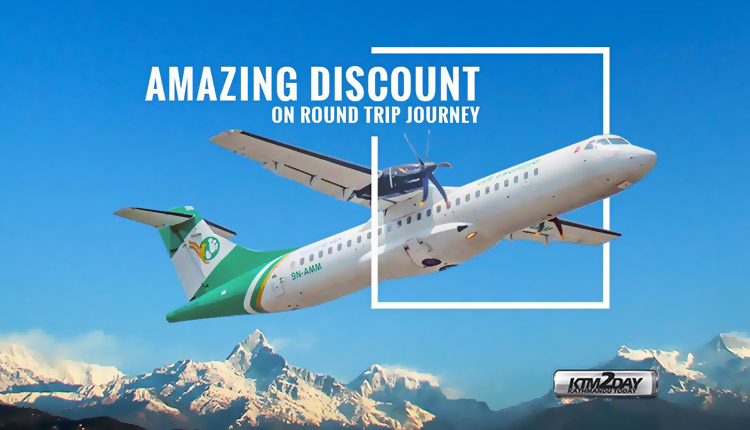 Domestic carriers affiliated to Airline Operators Association of Nepal (AOAN) have decided to offer 10% discount on base fare to passengers during Dashain, Tihar, and Chhath festivals.
Issuing a statement on Sunday, AOAN said that airlines operating scheduled flights will provide discount between September 29 and November 3.
According to the association, airlines will provide discount only on tickets purchased through their respective counters.
Base fare does not include fuel surcharge and airport tax, among others.
Fixed wing operators like Buddha Air, Sita Air, Summit Air, Tara Air and Yeti Airlines will provide discounts on airfares. These airlines operate scheduled flights to different destinations across the country.
"Five aircraft of Tara Air, Summit Air, Sita Air and Nepal Airlines Corporation (NAC) will operate flights to western hilly districts," Yog Raj Kandel, the spokesperson for AOAN, told Republica. "Similarly, our members airlines will operate scheduled flights to eastern hilly airfields like Rumjatar and Bhojpur, among others."
Airline operators say passengers will not face shortage of air tickets has most of the airlines have expanded their fleet this year. "Existing aircraft will be sufficient to fly passengers to their desired destinations," said Kandel.
AOAN has also said that chopper operators will be available for search and rescue flights even during the festival season.
The association has 15 member airlines. Ten of them are helicopter operators.
AIRFARE FOR DOMESTIC ROUTE DURING FESTIVE SEASON
Destinations
Actual Airfare
After 10% Discount
Kathmandu-Biratnagar
5,080
4,572
Kathmandu-Pokhara
3,350
3,015
Kathmandu-Bhairahawa
4,055
3,650
Kathmandu-Nepalgunj
6,720
6,048
Kathmandu-Bhadrapur
6,065
5,459
Kathmandu-Janakpur
2,855
2,570
Kathmandu-Simara
2,070
1,863
Kathmandu-Bharatpur
2,440
2,196
Kathmandu-Dhangadhi
8,275
7,448
Source: Airline Operators Association of Nepal