All-in-one PCs gaining ground amid tablet craze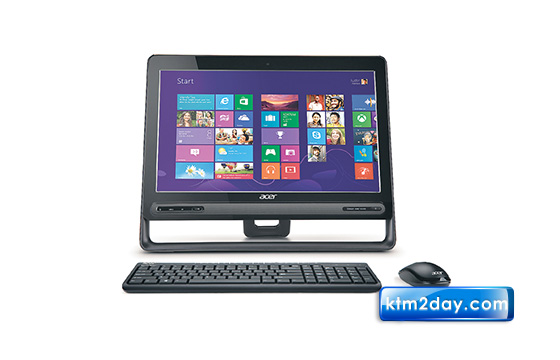 With desktop computers losing ground against laptops and tablets, personal computer makers have come up with a new version of PC, incorporating the CPU and the monitor in a single box.
Also known as 'all-in-one PC', such computers are gaining popularity in the market as they don't take big space at home and are portable compared to traditional desktops, traders say.
Local distributors of brands like Acer, Dell, Asus and Apple said they have witnessed a significant growth in demand for such PCs, especially for households and office purposes.
Nagmani International, authorised distributor of Asus, was the first to introduce all-in-one PCs in the domestic market two years ago. "Since we launched the product in 2012, we are seeing a significant growth in sales," said Nagmani Director Amit Saraf. "In 2013, we sold 200 units, up from 50 units of 2012," he said.
Saraf expects the market to grow further because of the device's features like compact and low power consumption.
Under the premium category, Asus offers 20-inch ET 2020 IUKI with Windows 8 Pro and third generation Intel core processor. It has been priced at Rs 103,500. The low-end variant from Asus stable is 18.5-inch ET 2013 IUTI at Rs 55,000, which is equipped with a dual-core processor.
Neoteric Nepal, authorised distributor of Dell, sells two models — the Dell Inspiron 2020 and Inspiron 2330. The 20-inch Inspiron 2020 comes with a dual-core processor and is priced at Rs 70,285, while the 23-inch touch-screen Inspiron 2330 is powered by 3rd generation Intel processor. It is priced at Rs 121,000.
"Stylish design and larger screen than notebooks are the main features that are attracting customers," said Rajani Nagarkoti, assistant product manager for Dell at Neoteric. Another prominent IT vendor, Mercantile Office Solutions, authorised distributor of Acer, has offered the ZC 605 and the 2127U.
Raj Prajapati, sales manager at Mercantile, said manufacturers are focusing on all-in-one PCs as the demand for traditional desktops has nosedived due to competition from laptops and tablets. He said prices of such PCs have also come down as the market picks up. "A device which cost Rs 60,000 two years ago, now costs Rs 54,000," he said. Apple iMac is another such computer on the offer. "all-in-one PCs have been gaining popularity due their unique features," said Akhil Gupta, executive director at SG Global, authorised distributor of Apple. The company is selling 21- and 27-inch iMac priced between IRs 166,199 and Rs 271,299.
Lenovo has also planned to launch all-in-one PCs in Nepal. "We are receiving a lot of enquiries for all-in-one PCs, so we plan to launch the products soon," said Suresh Lohani, managing director of Megatech Nepal, authorised distributor of Lenovo.