Amazfit Band 7 Price in Nepal : Specs and Features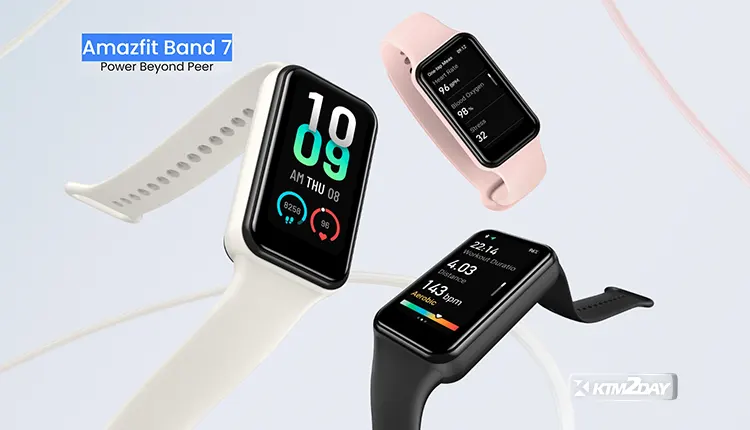 With the release of the Amazfit Band 7 in Nepal, the company has established itself as a frontrunner in the smartwatch market.
The low-priced smart band has an AMOLED screen and a battery life of up to 28 days. The company saw a need for a larger display on a wristband and decided to use the same rectangular shape as their already successful smartwatches. Learn about the Amazfit Band 7's specs, features, and price in Nepal here.
Amazfit Band 7 Specifications
The Amazfit Band 7's first distinguishing feature is its rectangular shape. This timepiece measures 42.33 x 24.36 x 12.2 mm. It has no physical buttons and a polycarbonate body.
There is no spoken language involved; only gestures. Three Biometric PPG sensors measure heart rate and SpO2 and are located at the base of the device.
The smart band's screen is a 1.47-inch AMOLED display running at a resolution of 198 by 368 pixels. There are 282 PPI on the equilateral display. The company has additionally included protective features like 3D Tempered glass and an anti-fingerprint coating. The smartwatch is also resistant to water up to 5 ATM.
The 120 included sport modes are a nice bonus. Activities like running, walking, basketball, swimming, treadmill, hiking, cycling, and more can all be recorded. The smart watch can track your pulse, oxygen saturation, and cortisol levels continuously for a full day. In addition, four distinct exercises can be identified mechanically during your workout.
The band has a number of other features, such as monitoring female health, PAI, breathing exercises, an alarm, a world clock, etc.
Based on the Zepp OS, it can show app notifications as configured and allow you to reject calls directly from the band. Also, there is no way to make or take a call through the band because there is no built-in speaker.
The 232 mAh battery powers the smart band. The manufacturer's site states that a full charge of the cell takes 2 hours. It has a standard 18-day battery life, but can go 287 days in ultra-low power mode. The band can last for up to 12 days, even with daily use.
The band uses Bluetooth 5.2 for data transfer and connection. It works with iOS 12 and higher and Android 7.0 and up. There's an integrated microphone, so you can use it with Alexa. But it lacks a built-in GPS and relies on the user's mobile device's positioning services instead.
Amazfit Band 7 Price in Nepal
The Amazfit Band 7 retails for $49.99 but can be purchased in Nepal for Rs.6,700. After several months of the initial release of the Amazfit Bip 3/Pro, the product has finally made its way to the Nepalese market.