Amazon's MP3 Web Store Busts Apple's Monopoly on Music Sales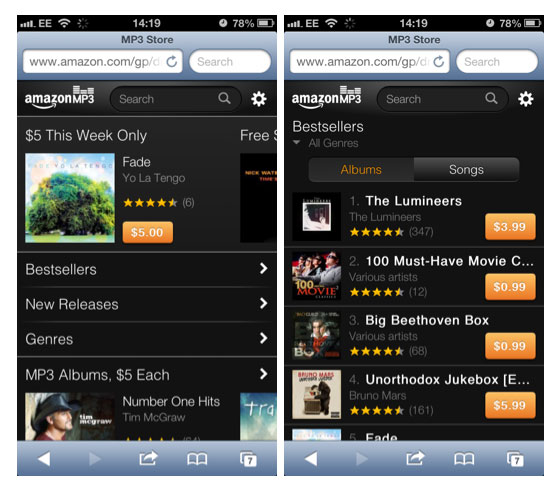 As the tried and true adage goes, where there's a will, there's a way and Amazon has just found its way around Apple's iron-fisted grip on mobile music sales. In a monopoly-busting challenge to Apple's continued dominance of on-device MP3 sales, Amazon has announced its brand new HTML5 MP3 web store, which is designed specifically to be used with Apple's Safari mobile browser, TheNextWeb reports.
According to Steve Boom, Vice President of Amazon Music:
"Since the launch of the Amazon Cloud Player app for iPhone and iPod touch, a top request from customers has been the ability to buy music from Amazon right from their devices. For the first time ever, iOS users have a way do that – now they can access Amazon's huge catalog of music, features like personalized recommendations, deals like albums for $5, songs for $0.69, and they can buy their music once and use it everywhere."
The reasoning behind the development of an iOS specific web store is purely economic. Apple takes a 30 percent cut from in-app downloads made through apps featured in its App Store and Amazon was evidently not in the mood for sharing.
Amazon's MP3 store won't be a downloadable app but will operate as a web store that delivers purchases directly to Amazon's Cloud Player app, which is available on Apple's suite of mobile products as well as Android devices, Roku, and Amazon's own Kindle Fire. Since purchases are stored in Amazon's Cloud, music can be shared seamlessly across multiple devices.