AMD Celebrates 50 Years and Launches Special Versions of AMD Ryzen 7 2700X and Radeon VII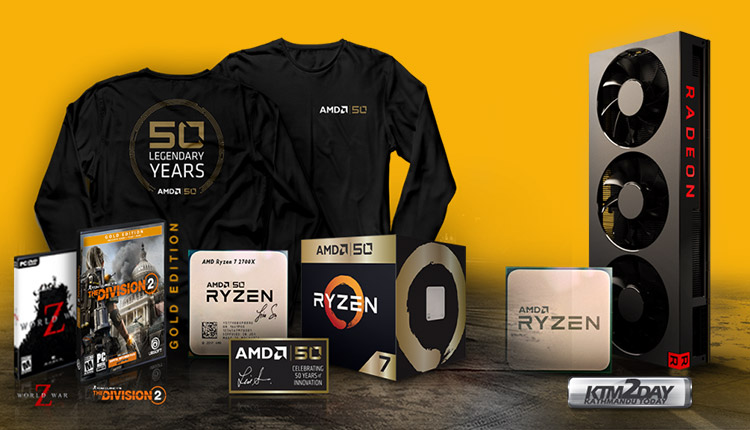 Founded in 1969 as a Silicon Valley start-up, the AMD journey began with dozens of employees focused on leading-edge semiconductor products.

AMD today develops high-performance computing and visualization products to solve some of the world's toughest and most interesting challenges.
On April 29, AMD celebrated 50 years of establishment, and to commemorate this achievement, two commemorative products have been officially launched and some more pleasing to those who trust the company in Santa Clara.
In the processor part, the arrival of AMD Ryzen 7 2700X Gold Edition was officially announced . The current top-of-the-line model of AMD processors brings all the news of the Zen + architecture with 8 cores and 16 threads, making it an option for those seeking high performance on a processor for professional applications or games.
In this edition of commemoration, the box pack includes Ryzen 7 2700X with its cooler Wraith Prism along with a laser etched signature of Lisa Su , President and CEO of AMD in a box stylized in the golden color.
For video cards, AMD is bringing a special version of Radeon VII, currently the company's fastest GPU and the first of all based in the 7nm microarchitecture.
The AMD Radeon VII Gold Edition features a vibrant red fan shroud along with black packaging with gold trim. Similarly to the Ryzen 7 2700X Gold Edition, the Radeon VII Gold Edition retains the standard Radeon VII specs, 60CUs, 16GB HBM2, and so on.
All Ryzen 7 2700X Gold Edition processors and Radeon VII Gold Edition graphics cards come with an AMD50 game bundle.
AMD's Ryzen 7 2700X Gold Edition is certainly compelling, but if performance is the primary focus, Ryzen 3000 may be the way to go. Currently, Ryzen 3000 is rumored to be released around the Computex time frame or July 7th.