AMD RX 7900 XTX and 7900 XT announced, to become available from Mid-December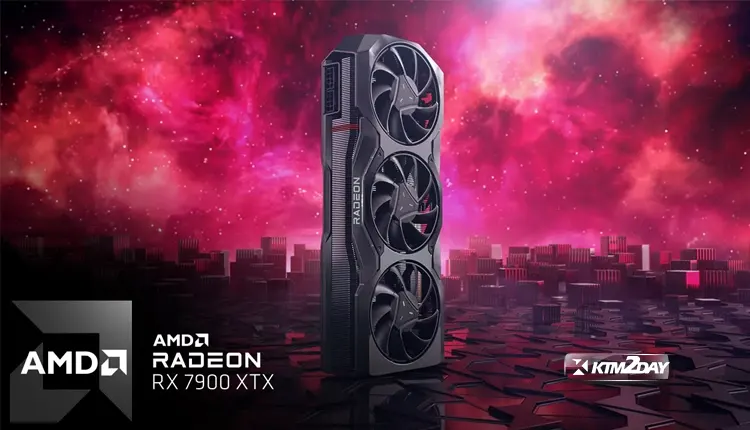 Two new high-end GPUs, the Radeon RX 7900 XT and Radeon RX 7900 XTX, based on AMD's new RDNA 3 architecture and built with a 5nm process and multiple scalable "chiplets," have been presented by AMD.
Both can be purchased anywhere in the world beginning on December 13. Radeon RX 7900 XTX, the most powerful variant, costs $999 (around Rs. 131,750), while the Radeon RX 7900 XT, the next model down, costs $899. (around Rs. 118,550). Prices are yet to be announced for Nepali market.
When compared to the previous generation, AMD claims a 70 percent increase in performance or a 54 percent increase in performance per Watt thanks to the RDNA 2 architecture.
The new Radeon RTX 7900 XTX is designed to take on Nvidia's GeForce RTX 4000 series, and it does so by offering competitive specifications such as 96 compute units, a clock speed of up to 2.3GHz, and 24GB of GDDR6 RAM.
The maximum power consumption of the board is 355W.
In comparison, the Radeon RX 7900 XT, which is slightly less expensive, has 84 CUs, a 2GHz clock speed, and 20GB of GDDR6 RAM. This unit uses 300W of electricity.
Both models feature DisplayPort, HDMI, and USB Type-C video outputs, and the promotional images from AMD show two standard 8-pin PCIe power connectors. All of the products from the affiliated brands can be personalized.
So far, both Radeon RX 7000 series models announced support the DisplayPort 2.1 standard, allowing for up to 8K output at 165Hz or 4K at 480Hz. Additionally, the AVC and HEVC codecs can be encoded and decoded simultaneously, and up to 8K 60p AV1 encoding is supported at the hardware level.
A Graphics Compute Die (GCD) containing the compute units that make up the graphics rendering pipeline and multiple Memory Cache Dies have replaced the traditional single GPU (MCDs).
In comparison to the Radeon RX 7900 XT, which has five active MCDs and a 320-bit bus, the Radeon RX 7900 XTX will feature six MCDs, each on a 64-bit wide bus, for a total of 384 bits.
AMD is able to combine and optimize its manufacturing resources and costs by mixing and matching components, such as the GCD, which is made on a 5nm node, and the MCDs, which are made using a 6nm process.
According to AMD, new AI instructions and increased throughput make this generation's ray tracing 50% faster than the previous one.
New artificial intelligence (AI) accelerators have been added to each CU, and the various stages of the graphics pipeline can now operate at varying clock rates.
It's likely that more performance details, such as how they stack up against Nvidia's GeForce RTX 4000 series and the new Intel Arc GPUs, will be revealed at that time.
Moreover, the company claims that the bandwidth of its next-generation Infinity Cache implementation is increased by a factor of 2.7 in comparison to the previous generation.
This improvement is the result of enhanced algorithms. The company also claims that it is committed to GDDR6 RAM for the sake of saving power.