Apa Sherpa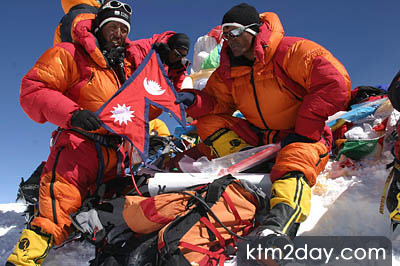 Apa (born Lhakpa Tenzing Sherpa c. 1960), nicknamed "Super Sherpa" is a Nepalese Sherpa mountaineer who holds the record for reaching the summit of Mount Everest more times than any other person. He has climbed the mountain nineteen times as of May 2009.
Early life
Lhakpa Tenzing Sherpa was born in the early 1960s in Thame, a village in the Everest region of Nepal, near the Chinese border. His exact age is unknown, but during a 2003 interview, he estimated it to be 40. Following his father's death when he was 12 years old, Apa had to take up the responsibilities of his family, consisting of his mother, two sisters and three young brothers. He dropped out of school and earned money working as a porter for mountaineering groups. His climbing career began in 1985, and he worked as a kitchen boy and porter for various groups but was not given the opportunity to reach the summit until 1990.
Personal life
Apa married Yang Chi, then also a resident of Thame, in 1988 and has two sons—Tenjing and Pemba—and a daughter Dawa. The family moved to the United States for business opportunities and to provide better education for their children. They live in Salt Lake City, Utah, and Apa is the co-owner of Karma Outdoor Clothing Co., In April 2009, he founded The Apa Sherpa Foundation dedicated to the improvement of education and economic development in Nepal.
Climbing career
Apa's first successful ascent of Mount Everest was on his fourth attempt, on May 10, 1990, with a New Zealand team led by climber Peter Hillary, son of Edmund Hillary. He then began his career as Sirdar, or chief Sherpa, for many high altitude expeditions. He has reached the summit every year between 1990 and 2009, bar 1996 and 2001; all but three times have been in May, and in 1992 he reached the summit twice.
May 2009 ascent
Apa broke his own record by reaching the top of Everest for the nineteenth time on May 21, 2009. He was a member of The Eco Everest Expedition, led by Bill Burke, whose purpose was to raise awareness about climate change. The team spent half an hour at the top of the mountain, unfurling a banner that said "Stop Climate Change".The team brought down five tonnes of mountain trash that includes parts of a crashed helicopter, tin cans and climbing material. On this expedition, a friend and fellow sherpa Lhakpa Nuru was swept away in an avalanche on May 7, 2009, and died.